Simon Gattringer is a busy groove drummer. Find out what he thinks makes a great pop groove. Also get inspired by what he does with a Jojo Mayer lick.
Simon Gattringer: another great Austrian drummer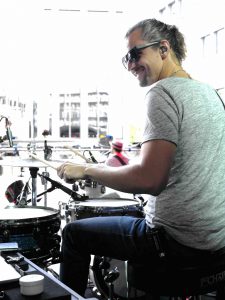 When you think of Austrian drummers, I bet I know which name pops up first: Thomas Lang? Right. And how about Aaron Their or Christian Eigner of Depeche Mode? There is also metal drummer Kerim Lechner of Septicflesh and the classical magician Martin Grubinger of course. But forget about all of them now, this post is about Simon Gattringer.
Simon starts playing at age 6 in Austria. He loved and still loves to practice. Thus it's no wonder that he wins the Austrian Newcomer Award for bands in 2004. It's the same year that he does some recording for the first time  – 12 years later he's the studio drummer for one of Germany's most successful musicians: Udo Lindenberg.
Four years later Simon Gattringer crosses the path of  Thomas Lang: When Simon becomes the Best Young Drummer Of Austria in 2008, Thomas is among the jury members. As time goes by, Simon follows his dream of becoming a professional drummer and moves to Hamburg. There he keeps also busy as a studio and band drummer. He also subs for Jost Nickel and gets to play for the NDR Big Band.
From licks, tricks and pop basics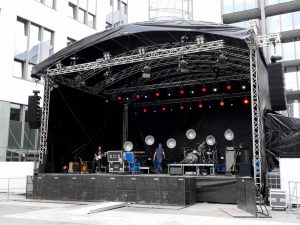 I first saw Simon Gattringer live with his drums & percussion duo DrescHHeads. Watch my video and see him show and explain a groove which he performs with his duo. Simon combines two ideas and creates something of his own. He took a Jojo Mayer lick, some dance groove and added his magic on top. Find the complete tune here.
But what I really wanted to know from Simon was how to play some proper pop grooves. After all, Simon gets his gigs because he is able to lay down some basic grooves. How does he do it? What's most important in terms of tuning and balance? Well, watch the video and find out. I caught Simon after sound check on his drum kit. He had a gig with German singer/songwriter Johannes Oerding and was willing to quickly answer all of my questions.
Watch and find out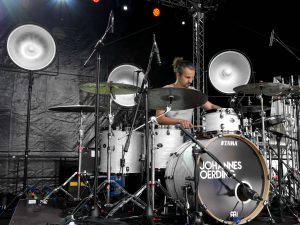 If you are not familiar with Simon yet, watch the video. If you are familiar with him, also watch the video. Get to know him almost personally in a short profile. In addition get a taste of his incredible credible drumming. And if you have never seen the famous Walhalla memorial, also tune into my video. Because when I went to Regensburg, I combined leisure, sight-seeing and work. That's my interpretation of 3/4 time. Enjoy, too!
Stay on or by(e)
Yours Cat
---
 Like what you see, watch and read? Let me know through the ❤ or at the bottom ⇣⇣⇣
Stay in touch, subscribe to my YouTube channel, follow me and like me, if you do. Thank you!
---
Get in touch with Simon Gattringer
DreschHeads
B-Seite
Phase 2 Corporation
Johannes Oerding
Media and drummers Simon mentions in the video
Vinnie Colaiuta
George Duke – Face The Music (CD | 2003)
Herbie Hancock – The Complete Columbia Album Collection (Box-Set | 1972 – 1988)
Robert Glasper
The Jackson Five
Jojo Mayer – Secret Weapons For A Modern Drummer (DVD | 2007 )
Recordings with Simon on
Udo Lindenberg – Stärker als die Zeit (CD | 2016)
Johannes Oerding – Alles brennt live in Hamburg (CD & Bluray | 2015)
Max Mutzke – Max (CD | 2015)
Simon Gattringer's Gear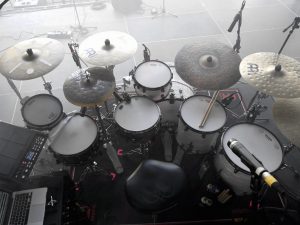 Tama Drums
Meinl Cymbals Byzance
Evans Drumheads
Vic Firth Sticks