I boosted my vlogging audio gear. How does recording with a digital Sennheiser AVX system feel like? Since I own the lavalier version, let me briefly tell you as much as I know so far.
Quick, easy and light is what I need
I really like living and travelling light. And I also like it when I can handle technical and tricky things myself with ease. That's why my first computer was an Apple laptop. And that's also why I still only have a MacBook Pro – everything I do, I do it on there. When it comes to my vlogging audio gear, I try to pack as light as possible. That way I am most flexible when going from home to a filming location: I can either do that by bike, train or airplane.
As far as getting a good sound for my videos is concerned, when I started out I was on a budget. If that's the case you need to get a little creative and make things work with fewer and maybe less ideal options. Therefore, at the end of each interview I was able to add three separate audio tracks to my Final Cut library: one from my camera and two from my two Zoom recorders. But wouldn't it be nice to have only one audio track at the end? How about feeding my camera directly with additional audio instead of running extra recording devices? Yes, I know some vlogging audio gear that can pull that off …
Outstanding vlogging audio gear: Sennheiser AVX system
… Sennheiser's AVX system. According to its manufacturer it is the "perfect digital wireless microphone for film projects". Thus it should be more than useful for me and my purposes. Sennheiser gives you various options: 1) A great fit for spontaneous, quick interviews on the streets is the AVX-835 SET. It comes with a handheld microphone. 2) If you need your hands for other things and want to be more free overall, you might prefer the lavalier version. The AVX-MKE2 SET comes with a high-level microphone. 3) If you don't want to be limited at all, just get the AVX-Combo SET.
While doing interviews I prefer to not distract my opposites with a microphone in my or their own hand. Further more, because I prefer to be behind the camera and want to do more of documentary style videos in the future, I got the AVX lavalier version. Here's what it includes:
Digital PlugON receiver
SK AVX bodypack
MKE2 lavalier microphone
Battery pack BA20 and BA30 for transmitter and receiver
Hot shoe mount
USB charger, belt clip
Adapter cable CI 400 XLR to mini-jack stereo
Pouch
Why the AVX works great for vlogging
The Sennheiser AVX system quickly replaced my current vlogging audio gear because it's small, incomplex, effective, high quality and timesaving. It's just plug in and talk. Since receiver and transmitter talk to each other digitally, I don't need to worry about finding the right radio frequency. I don't even need to worry much about the audio levels – no matter the surroundings. That's because the AVX comes with a wide dynamic range and adjusts itself to my camera's levels at any time. Only when using it for the first time you need to set up the recording level on your camera and on the receiver correctly.
According to Sennheiser I can save battery power because the AVX "switches on and off automatically with your camera." It really does, but only if you use the receiver with phantom power. Just be careful! If you don't film for a while the receiver also goes on standby. Give it a few seconds to be ready to record again. In case of using the adapter with mini-jack straight into the camera, you need to do the work yourself. On the other hand, or rather on the other end and due to the bodypack's display, I always know how many hours of battery life I still have left on there.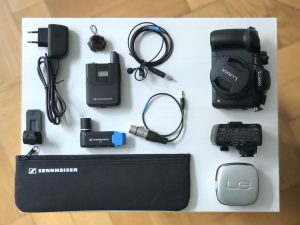 Speaking of batteries, luckily the AVX uses storage batteries. And charging them is simple: it can be done via a micro USB cable. Finally, there are two things I will have to find out later: 1) Will my camera really record the voice of my interview partner when he or she is up to 30 meters away from me and my camera? 2) And what will happen when I unpack the AVX set outside of Europe? I better don't sell my Zoom recorders yet. It's always good to have a back-up.
Stay on or by(e),
Yours Cat
 … in cooperation with Sennheiser