How well do you know all-around super drummer Thomas Lang? Get to know him even better, when he opens his doors for me, CATwithHATs.
California, I am coming!
When I decided to make my NAMM Show debut in 2016, I thought, I'd better make that trip worth its time and money. What or whom else could I visit besides the Anaheim convention center? Disneyland is right across from it. The Pacific Ocean usually is not that close. The Getty Center, MOCA, Universal Studios, Hollywood Walk of Fame? Been there, done that. But how about my old school, the Los Angeles College of Music (LACM) and some local drummers? Definitely do so! Hence I reached out and yes, I went to LACM and interviewed two drumming legends: Joe Porcaro and Ralph Humphrey. But among those who immediately said "Sure, come bye, let's do a story for your blog", was Thomas Lang.
Sunny drummer boy from Austria
The first time I saw Thomas perform live must have been in 2002 in Koblenz, Germany. Still not everybody had heard of the Austrian's talents, craftsmanship and artistry. His great manifests on dvd, in books etc. were yet to be published. Back then he played on the same stage as Steve Gadd, Gregg Bissonette, John "JR" Robinson, Steve Ferrone, Bernard "Pretty" Purdie, Steve Porcaro, Mike Porcaro, Joe Porcaro, Lenny Castro, Luis Conte and many others. That was during the International Drummer Meeting in Koblenz, where also a tribute concert to Jeff Porcaro took place.
500+ recorded albums or so later, the 48-year-old can look back on a continuos career as a world-renowned session and live drummer. Even though he resides with his family in Los Angeles, California and calls home his favorite place on Earth, he travels the world frequently – playing concert and clinic tours and inspiring thousands of drummers in every corner of the planet. Thomas Lang is into music with all his heart and muscles. He loves it all and he loves to get better. That's why he is still taking lessons from admired peers. Luckily Thomas also likes passing on his knowledge to hungry drummers: in his matchless drum boot camps, clinics and during private lessons.
Private drummer Thomas Lang on home video
If you are curious what a normal day in the day of Thomas Lang is like, watch the video. Wanna know what his studio and his recording equipment looks like? And how about some unheard drumming by the maestro? Click the play button! What do you think was the latest record Thomas has bought? Which tv program is Thomas' favorite? Find out … in the video! What happens to Thomas Lang's drumsticks after a day in the studio?  What other instruments does he play? Watch the video to find out!
Stay on or by(e)
Yours Cat
---
 Like what you see, watch and read? Let me know through the ❤ or at the bottom ⇣⇣⇣
Stay in touch, subscribe to my YouTube channel, follow me and like me, if you do. Thank you!
---
Get in touch with Thomas …
Thomas' Website
Thomas' Facebook Site
Thomas' YouTube Channel
Thomas' Boot Camps
Thomas' Drum Universe
Thomas' educational material
DVDs by Thomas Lang …
Ultimatives Schlagzeug  (1998)
Creative Control, 2 DVD (2004)
Creative Coordination and Advanced Foot Technique (2004)
CDs Thomas Lang recommends …
Sandy Nelson – Let There Be Drums (1961)
Adele – 25 (2015)
Some CDs Thomas Lang is on …
Stork – Broken Pieces (2014)
Stork – Stork (2013)
Thomas Lang & Conrad Schrenk – Yumaflex (2012)
Thomas Lang – Something Along Those Lines (2010)
Thomas Lang – Mediator (1996)
Thomas Lang's Gear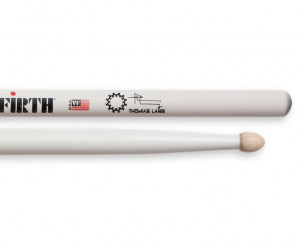 Vic Firth STL Thomas Lang Signature Sticks
Meinl Generation X Cymbals – TB 14/17/18
Meinl Generation X Cymbals– TB 14/16/18
Meinl MPP-6-TL 6″ Practice Pad
Meinl MPP-12-TL 12″ Practice Pad
Roland V-Drums
Remo Drumheads
Audix Microphones
DW Maple Mahogany Set