How many Jazz-Metal drummers do you know? I ran into Adam Marko of the band Special Providence in Switzerland. Adam had just enough time to also demonstrate one of his favorite warm-ups: a progressive Paradiddle.
Elevator talk with Adam Marko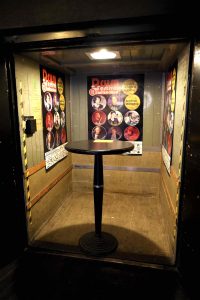 Adam Marko stands in an elevator, in one that doesn't move. What's an elevator good for, if he doesn't move? Well, drummers could sign some autographs in there. The spotlight would be on them. Exactly that happens after each performance at the Drum Festival Switzerland close to Zurich. So there is Adam with a stack of cards and there is me entering the elevator. I introduce myself and we chat a little about his performance and the festival.
All of a sudden Adam Marko suggests to do an interview with him. My answer is neither yes, nor no, but maybe. The reason for that is that I do have two fixed appointments: one with Jojo Mayer and one with Emmanuelle Caplette. But for the vibes I get from Adam are good, I ask him if he's still in town tomorrow. His reply is positive and therefore we set a date for the next morning at the lobby of the hotel he's staying in.
To prepare is key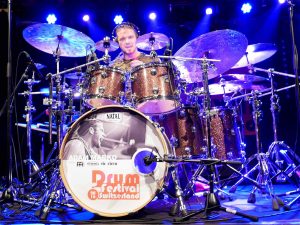 Usually I do prepare for my interviews and I take some days in advance to do so. This time, that's not possible, but who knows when I will see Adam Marko again. Most noteworthy, I liked his performance – he opened the festival with some very dynamic, complex and versatile drumming. Furthermore, he is really up to do the interview. No maybe on his side. Adam wants to do something for CATwithHATs and those are best interview partners I can get.
Luckily Adam Marko is very organized and reliable. Upon connecting via socials and email, he sends me his curriculum vitae. The only thing that's missing are some audio tracks of his jazz-metal-prog band Special Providence. But what's Bandcamp for? So, after the festival late at night I do get my time to prepare for the interview and take notes on one of Hungary's busiest drummers and clinicians.
Progressive diddles, a riddle and more
At the hotel we have to deal with having no great setting for the interview. Luckily the weather is nice and we end up outside, next to a very large and loud fountain. Anyway, Adam Marko has his signature sticks at hand and we are both ready to go. If you have never heard of the 34 year old drummer, who's home in pop, rock, metal, jazz and progressive music on stage and in studios, this is your chance.
And if you've gone out of warm-up routines and love Paradiddles, Adam Marko has a simple but effective one for you. It's RLRRLLRR / LRLLRRLL. Only when I asked him, he spontaneously came up with a name for it: The Paradiddle-Riddle-Diddle. Curious how that might sound? Well, go on and watch the video. Have fun creating something cool of this small seed!
Stay on or by(e)
Yours Cat
---
 Like what you see, watch and read? Let me know through the ❤ or  at the bottom ⇣⇣⇣
Stay in touch, subscribe to my YouTube channel, follow me and like me, if you do. Thank you! 
---
Get in touch with Adam Marko
Website
YouTube
Bandcamp
Facebook
Instagram
Twitter
Media and drummers Adam Marko mentions in the video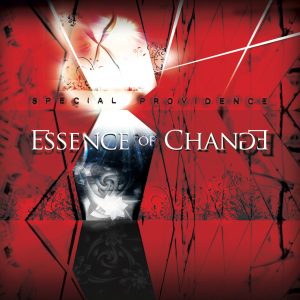 Lars Ulrich (Metallica)
Richard Marx – Richard Marx (CD | 1987)
Dream Theater – Images And Words (CD | 1992)
Periphery
Animals As Leaders
Haken
Special Providence – The Essence Of Change (CD | 2015)
Vinnie Colaiuta
Dennis Chambers
Mike Portnoy
Paul Wertico
Recordings with Adam Marko on
Special Providence – Space Cafe (CD | 2013)
Special Providence – Labyrinth (MP3s | 2013)
Special Providence – Sould Alert (CD | 2011)
Adam Marko's Gear
Natal Drums
Maple (22″, 10″, 12″, 14″, 16″)
Meinl Cymbals 
Byzance + MB20 Series
Evans Drumheads
Vic Firth Signature Drumsticks