The freelance musician Emmanuelle Caplette won fame for her outstanding hand technique as well as for her graceful, yet powerful drumming. At the Drum Festival Switzerland, Emmanuelle showed me one of her favorite Stick Control exercises.
Playing drums gracefully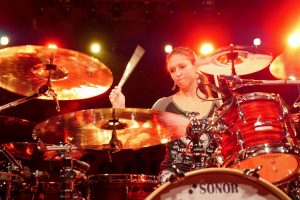 When Emmanuelle Caplette enters the stage at the Drum Festival Switzerland, only the headliner of the event is still warming up: Jojo Mayer. This kind of gives you an idea of how much Emmanuelle is respected and appreciated in the drummer world. With severe punch she gracefully hits all the proper notes during eight jazz-/fusion play alongs. It all looks so easy when she plays. And when she throws one of her many smiles after her strokes, it's even surreal. Not a big deal it seems. Very cool and efficient, Madame Caplette.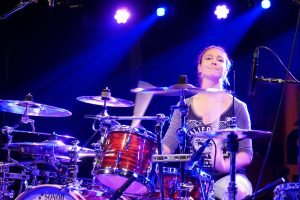 To me it's pretty obvious that Emmanuelle has always been a good student. She is very focused and plays complex rhythms with such ease that she must have practiced certain motions and stroke combinations a lot. For she is not only good at teaching herself but also others, Emmanuelle Caplette gives lessons and clinics all around the world. Especially relevant for all of you, who don't live in the Montreal area, this is the first year that Emmanuelle also teaches via Skype.
Stick Control with Emmanuelle Caplette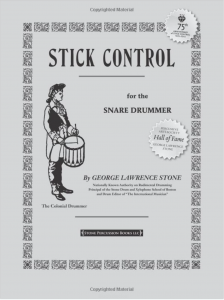 Let me rewind that day a few hours. In the afternoon I have a date with Emmanuelle backstage. Since the weather is great, we decide to do the interview outside. It's also much quieter there. I've got her wired and my camera ready, when someone shouts some "Sorry!" from the side. "I saw you play Toto – in the internet." Who could it be? Of course, a fan, who is afraid he won't see Emmanuelle so close again after the show in the evening. Selfie? Yes, let's quickly take a selfie. Thus I keep my camera in the one hand, take his smart phone in the other and ta-taah!
While one man is very happy already, I still need to get my interview with Emmanuelle Caplette on my memory card. Hence we start right away with the obligatory short profile. So watch the video and find out for example what kind of grooves Emmanuelle could play for more than two hours, from what she draws her inspiration and how she developed such great hand technique. Speaking of, luckily Emmanuelle doesn't mind to show me one of her favorite exercises out of the Stick Control book. How are your 32nd note singles and doubles come? Ready for a simple, but effective lesson? Well, watch the video and have fun.
Stay on or by(e)
Yours Cat
---
 Like what you see, watch and read? Let me know through the ❤ or  at the bottom ⇣⇣⇣
Stay in touch, subscribe to my YouTube channel, follow me and like me, if you do. Thank you! 
---
Get in touch with Emmanuelle Caplette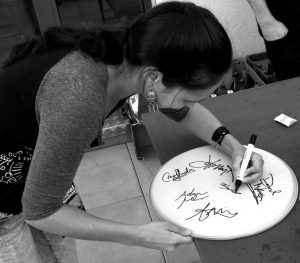 Website
YouTube
Facebook
Twitter
Instagram
Media* and drummers* Emmanuelle mentions in the video
Dave Weckl
Jeff Porcaro
Manu Katché
Vinnie Colaiuta
Aaron Spears – Beyond The Chops (DVD | 2009)
Steve Smith – Pathways Of Motion (Book & DVD | 2016)
Jojo Mayer
Aerosmith – Greatest Hits (CD)
FlorenceThe Machine – How Big, How Blue, How Beautiful (CD | 2015)
John Mayer – Paradise Valley (CD | 2013)
Steven Wilson – Transience (CD | 2016)
Pink – I'm Not Dead (CD | 2008)
Toto – 35th Anniversary Tour (CD | 2014)
Foo Figthers – In Your Honour (2 CD | 2005)
Beyoncé – 4 (CD | 2013)
Sting – 57th & 9th (CD | 2016)
George Lawrence Stone – Stick Control (Book | 1935)
Recordings with Emmanuelle Caplette on
EC/SM (CD | fall 2016)
Emmanuelle Caplette's Gear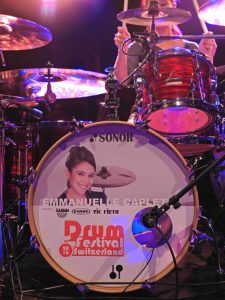 Sonor Drums*:
16″ x 16″ bass drum
14″ x 6″ snare drum
12″ x 5″ side snare Force 3007
10″ x 8″ rack tom
13″ x 11″ floor tom
14″ x 12″ floor tom
Sabian Cymbals:
13″ Fierce Vault Hat par Jojo Mayer*
14″ Mix with AA Regular (Top) and Prototype (Bottom)
17″ HHX Evolution Crash*
18″ HHX Evolution Crash*
18″ AAX Chinese*
10″ HHX Splash*
Evans Drumheads*
Vic Firth Sticks*
Roland Console V-Mixer M200-i*
Sennheiser Microphones*
---
* Affiliate Link
An unique link provided to affiliates to promote an online service that is then used to credit sale commissions to the affiliate. If you buy through these links, you help me to continue my blog CAT with HATs. Thank you. Thanks a lot!