Which cliché do you have in mind, when you think about a heavy metal drummer? Recently I had the pleasure to enter a Nightwish concert with a backstage pass – to find out more about heavy metal drummers from Finland.
Heavy Metal and a Jazz soul
Do they have long hair, dark clothes, scary facial expressions, a blustering appearance, a body full of tattoos, a deaf aid and a doublbass-setup? Are you maybe thinking about the Animal with a black t-shirt? Well, if you met versatile Nightwish drummer Kai Hahto, you'd be disappointed.
He has long hair, yes, two bass drums, yes of course, but there is still plenty of space on his arms for tattoos. No screaming either during our interview. And wait until you find out, who his drum heroes are! This man has a jazz soul. Come to know what jazz taught him.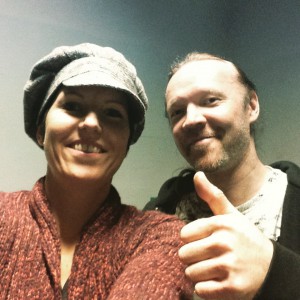 On tour with Nightwish
You may know Kai for his drumming in the grind core band Rotten Sound or the metal band Wintersun. But since Nightwish's original drummer Jukka Nevalainen had to take a break due to health problems, Kai Hahto took over the drum chair. When the popular Finnish symphonic metal band stopped in Munich for a concert, Kai very spontaneously allowed me to see him between soundcheck and dinner. We took over his tour-manager's office at the venue and started talking.
---
 Like what you see, watch and read? Let me know through the ❤ or  at the bottom ⇣⇣⇣
Stay in touch, subscribe to my YouTube channel, follow me and like me, if you do. Thank you! 
---
Mental & physical warm-ups
The Nightwish gig is a very physical one. Extremely powerful playing over a long period of time, which involves almost as many strokes performed by the legs as by the arms. No wonder that I have been curious how Kai would prepare for that kind of work before the show. So I asked him, if he had a warm-up routine. Have a look at what Kai had to share and showed me backstage. This much I can tell you: it's all muscles, but the most important ones are not in your arms or feet.
Stay active, keep it fresh
Even though Kai regularly warms up on his practice pad, he refuses to play the same exact same exercises every day, he refuses to get trapped in a routine. For one it's more fun, if you keep up the challenges and break out of the routine every now and then. And on the other hand you push yourself and make your mind stay fresh. But see yourselves how much fun Kai has on his practice pad.
Kai Hahto's Gear
Kai is endorsed by the following companies: Meinl Cymbals, Pearl Drums, Balbex Drumsticks, Roland V-Drums and Finfonic earphones. Please check out Kai's gear list for more details and information.
In the video Kai also recommends a metronome app which includes polyrhythms, it's this one by Mike Mangini: Tempo Advance.
Stay on or by(e) and visit Kai here …
Yours Cat