Ari Hoenig is an adventurous jazz drummer from Brooklyn USA. When we shortly met before his Munich gig, Ari showed me a bit of how he practices when on tour or simply anywhere.
Skins & Metals
Even though Ari Hoenig learned how to play the violin and the piano prior to the drums and even though he is a very musical sticks magician, Ari's biggest love are skins and metals. Recently I invited myself to one of his gigs. Ari was stopping by in Munich to play and also record a new album with the Kenny Werner Trio. He took me entirely by surprise when he asked me, if I had some Bosphorus cymbals for him to borrow. Ari Hoenig travels light. And I remembered when I received a dressing-down from a teacher many years ago, because I didn't bring my own cymbals and apparently didn't care about my own sound. Anyway, one topic, many opinions and a great sound later that night at the gig … with some borrowed Bosphorus'.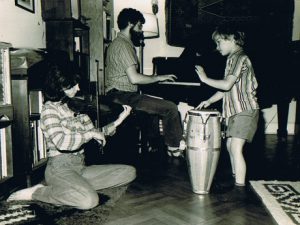 Ari Hoenig is an adventurer, who loves to explore music.  He is also one of those lucky fellows, who grew up with parents which were musicians. And he is one of those talented drummers, who studied with the legendary educator Ed Soph at the University of North Texas. Keith Carlock also went there to learn very important lessons.
Moving to New York in 1995 was the right move for Ari Hoenig. This place offers enough room for the drummer and composer to explore. He does do so as a sideman as well as with his own trio, quartet and the Ari Hoenig Nonet. In 2013 he even won the BMW Welt Jazz Award. If you are not from New York, haven't visited either and didn't catch Ari on a tour around the world, he left traces of his artistry on many records. His eleventh album as a leader The Pauper & The Magician was just released this year.
Rhythm first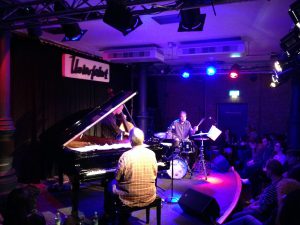 When I saw Ari Hoenig play, I wondered what he was thinking. His appearance behind the kit is unique at most  times: a paradoxical mixture between The Hunchback of Notre Dame and Kevin Home Alone. Even though he's very focused, serious and driven, at the same time he is very relaxed, spontaneous and floating. Exciting!
Drummers usually are experts when it comes to rhythm, so is Ari Hoenig. But he's more, he's a king of rhythm. I had already heard about it. Not for nothing did he publish two educational books on that matter. He collaborated with bassist Johannes Weidenmüller, whom you will also see in the video.
So when we met before Ari's gig with the Kenny Werner Trio at the Unterfahrt in Munich, I got a taste of how Ari practices on the road or just anywhere. Instead of working on his speed, he prefers to explore the world of rhythms. He loves rhythm games. And in this video he gives you two examples of what you can do, within a bar of four-four or a bar of three-four time. He even quickly adapts his ideas within a musical setting.
More Ari Hoenig
If this quick treat is too fast for you, Ari Hoenig also teaches: privately, at the New York University and at the New School in New York. He's also been a guest on My Music Masterclass, where he teaches three episodes of Rhythm Training. That's a great site to check out, if you are serious about music by the way. But for now have a look at this video and get to know an outstanding drummer, you might not have heard of yet. Enjoy the exploring journey!
Stay on or by(e)
Yours Cat
---
 Like what you see, watch and read? Let me know through the ❤ or at the bottom ⇣⇣⇣
Stay in touch, subscribe to my YouTube channel, follow me and like me, if you do. Thank you!
---
Get in touch with Ari Hoenig
Ari Hoenig's educational material
Rhythm Training (Stream, 2014)
Melodic Drumming (DVD, 2012)
Metric Modulations Vol. 1 (Book / DVD, 2012)
Metric Modulations Vol. 2 (Book / DVD, 2012)
Melodic Jazz Independence (Book, 2011)
Intro To Polyrhythms (Book, 2009)
The Ari Hoenig Songbook (E-Book, 2009)
Recordings Ari mentions in the video
Ari Hoenig – The Pauper & The Magician (2016)
Michael Jackson – Thriller (1982)
Miles Davis – Miles Smiles (1966)
Spiritual – This Little Light of Mine
Some Recordings with Ari on
Kenny Werner – The Melody (2015)
Morten Haxholm Quartet – Quintessence of Dust (2014)
Gael Horellou – Brooklyn (2014)
Tristan Loriaut – Keep A Safe Distance From Elephants (2013)
Jamie Oehlers Quartet – Smoke & Mirrors (2012)
Ari Hoenig – Lines Of Oppression (2011)
Pilc Moutin Hoenig – Threedom (2011)
Ari Hoenig – Punk Bop Live at Smalls (2010)
Ari Hoenig – Bert's Playground (2008)
Richard Bona – Tiki (2005)
Ari Hoenig's Gear
Bosphorus Cymbals
Yamaha Drums
Vater Sticks
Evans Drumheads