Mark Guiliana is the personification of a modern drummer. He might also be one of the most creative drummers these days. When he enters the stage his presence hits everybody.
Preparing for the Unknown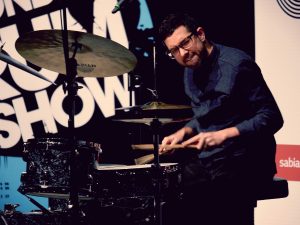 "I love music, I love to create, I love to explore." That's something, Mark Guiliana says during his clinic at the London Drum Show 2016. He's one of eight top drummers performing on main stage. First of all he doesn't play flashy, he's also not gigging with Justin Timberlake, Prince, Suicidal Tendencies, Marilyn Manson or the Stereophonics like his peers on the same stage. He's a jazz guy. And as such he's always preparing for the unknown – including a David Bowie gig.
Even though Mark Guiliana is only in his mid 30s, he sounds pretty wise when talking. And when talking through the drums he sounds very eloquent and forceful. He's a drummer and composer for whom music is about making the right choices. He likes to organize his freedom. In order to find new places during improvisation, he therefore restricts himself and also demonstrates that process on stage. By taking away certain sound sources of his drums like the toms, he forces himself to explore new frontiers.
No plan is the plan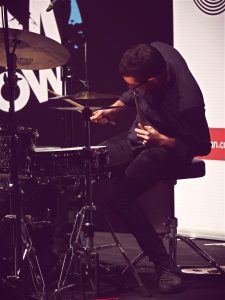 Here's another quote that describes the US dummer pretty well: "I don't have a plan. That's kind of the plan." Sounds great but what does that mean for the professional praxis on stage? One needs to be very creative and self-confident in order to be able to wing things in extreme situations. So how does Mark Guiliana unlock his creativity? How does he go from practicing boring stuff to perform magic on stage?
I want to know all of that and more. Therefore I've gotta find Mark and ask him for an interview. Seems like I've got a problem though: I don't have a plan how to quickly get backstage after his clinic. The security guard won't let me in with just my press pass. Well, what could I do? I wait. Two minutes later the door opens and Pete Lockett comes through. Guess what?! He smuggles me into backstage. And that is where I finally get to meet Mark Guiliana.
No meeting, let's meet
Actually we've briefly met before at the Dresden Drum & Bass Festival in 2014. Mark demonstrated some interesting dialogues together with bass player Chris Morrissey. And of course I bought David Bowie's last record with Mark's drumming on. Even more reason to see Mark play live in a band setting, I tried to see him with his own band, the Mark Guiliana Jazz Quartett, when they played in Munich. I missed it and there wouldn't have been time to do an interview unfortunately anyhow.
However, the wheel of fortune keeps on turning and today in London I am lucky after all. Mark says he will email me later about a free spot in his schedule tomorrow. And so he does and hence we meet in a small empty room backstage. Curious about the man, who shows what's possible on drums? Well, enjoy the video!
Stay on or by(e)
Yours Cat
---
 Like what you see, watch and read? Let me know through the ❤ or  at the bottom ⇣⇣⇣
Stay in touch, subscribe to my YouTube channel, follow me and like me, if you do. Thank you! 
---
Get in touch with Mark Guiliana
Website
Facebook
Instagram
Twitter
YouTube
Soundcloud
Media* and drummers* Mark Guiliana mentions in the video
Mark Guiliana Jazz Quartet – Family First (CD | 2015)
Mark Guiliana – Beat Music (EP | 2013)
Chad Smith – Eastern Rim (2DVD | 2008)
Pearl Jam – Vs. (CD | 1993)
A Tribe Called Quest – We got it from Here…Thank You 4 Your service (CD | 2016)
David Bowie – Black Star (CD | 2016)
Recordings with Mark Guiliana on
Mark Giuliana – Exploring Your Creativity On The Drumset (book | 2016)
Mark Guiliana Jazz Quartet – Family First Alternate Takes (CD | 2015)
Mehliana – Taming The Dragon (CD | 2014)
Mark Guiliana – Beat Music: The Los Angeles Improvisations (CD | 2014)
Mark Guiliana – My Life Starts Now (CD | 2014)
Mark Guiliana – A Form Of Truth (CD | 2012)
Heernt – Locked In A Basement (CD | 2006)
Mark Guiliana's Gear
Gretsch Drums
Sabian Cymbals
Vic Firth Mark Guiliana Custom Sticks
Remo Drumheads