Pete Lockett is a shining light amongst drummers and percussionists on this planet. Comfortable with anything that makes noise, he knows what's really important, if you aspire to play drums & percussion successfully.
Pete Lockett on socials and in real life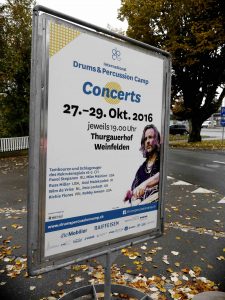 I already checked into my hotel and fetched my press pass. Time to head over to the venue, where Pete Lockett will perform tonight. How do I know he's over there? On the one hand Pete loves to live in the moment and on the other hand he loves to share his passion. Luckily there are some social networks he is very attached to. If you would like to travel the world alongside with a famous percussionist, join and follow Pete through Facebook, Instagram and Twitter. Safe travels!
By the way, I am in Weinfelden, Switzerland. This small town is home to the International Drums & Percussion Camp, initiated by Samuel Forster. This year drummers / percussionists like Russ Miller, Robby Ameen, Wim de Vries, Richie Flores, Asal Malekzadeh and Pete Lockett are giving master classes, workshops and performances on a big stage. Lucky me, I do have dates with Russ and Pete.
Superb Indian Drumming in Switzerland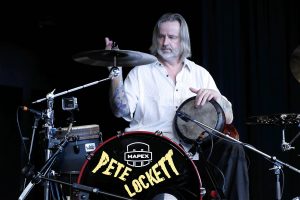 I've heard so much of the British Jack of all trades or rather of all percussion instruments. Even though he starts on a drum kit and takes his first lesson at age 19, he manages to make an unmatched career as a drumming musician. Pete Lockett released a long list of solo records and cooperations with other popular drummers / percussionists. And he played gigs with some greats. Most noteworthy are his collaborations with Peter Gabriel, Björk, Robert Plant and Jeff Beck. In addition, his list of recorded film music is long.
If that wasn't enough, Pete is an expert in Indian drumming and as such holds an Honorary Professor at Shanghai Conservatory. But back to Switzerland and forward to the backstage of the venue. While many hands are setting up and miking Pete's hybrid percussion kit, I quickly introduce myself. So far we've only exchanged some emails. Great, he will squeeze me in tomorrow after singing Indian rhythms to his students. I watch parts of the extensive soundcheck with Pete playing his kanjira, darbuka and other goodies and move on.
Show Me Your Hands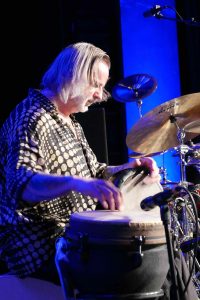 Show time! In the evening Pete celebrates some surprising things on his instruments and takes the audience to the Far East among other places. For sure a big inspiration for many listeners. But it's already the next day after a great concert night. I do wonder how all of that is possible: having such a career, being so versatile on so many instruments. Therefore I simply ask Pete. To be more specific, first of all I ask him to show me his hands. For they must be kind of special, right?
But what about a percussionist's feet? Pete uses a hi-hat as well as a small bass drum in his set-ups. How important is the ability to incorporate one's feet into one's playing for a modern percussionist? Furthermore, the mind controls everything, so what about Pete's mind set? Just watch the video and receive answers to these and other questions. Enjoy this small ride with the master percussionist, who's heart is his compass and get inspired – I did.
Stay on or by(e)
Yours Cat
---
 Like what you see, watch and read? Let me know through the ❤ or  at the bottom ⇣⇣⇣
Stay in touch, subscribe to my YouTube channel, follow me and like me, if you do. Thank you! 
---
Get in touch with Pete Lockett
Website
YouTube
Facebook
Instagram
Twitter
Drummers and bands Pete Lockett mentions in the video
Zakir Hussain
Matt Garstka of Animals As Leaders
Zohar Fresco
Recordings with Pete Lockett on
Pete Lockett & Gabor Dörnyei– Rhythm Frontier (CD | 2015)
Russ Miller & Pete Lockett – Rhythm-Sphere (CD | 2014)
Pete Lockett feat. Pt. Shankar Ghosh, Prattyush Banerjee – Made in Kolkata (CD | 2013)
Pete Lockett – Made In Chennai (CD | 2010)
Pete Lockett – About Time (CD | 2010)
Bickram Ghosh & Pete Lockett – The Kingdom of Rhythm (CD | 2009)
Pete Lockett's Journey With The Master Percussionists Of India (CD | 2009)
Pete Lockett & Amit Chatterjee– Taalisman (CD | 2009)
Pete Lockett – Live In Istanbul (CD | 2007)
Russ Miller – Arrival (CD | 2007)
Parallax Beat Brothers – Twisted Artifacts (CD | 2007)
Pete Lockett's Network Of Sparks feat. Bill Bruford (CD | 2006)
Joji Hirota – From Taiko To Tabla (CD | 2004)
Pete Lockett – Network Of Sparks (CD | 2002)
Other media with Pete on
Pete Lockett – Indian Rhythms For Drumset (Book | 2014)
Pete Lockett – A Survivor's Guide To Eternity (Book | 2014)
Benny Greb – The Language Of Drumming (DVD | 2009)
Pete Lockett's Gear
Remo Percussion
Mapex Drums
Sabian Cymbals
Vic Firth "Drum Jammer" Signature Sticks VFSLOC