Where would the drumming world be today without cymbals from Turkey? Luckily we don't have to think about that. But I was curious about the current drum scene of this transcontinental state. Therefore I found myself a new keypal: Turkish drummer Turgut Alp Bekoglu.
Keypal no. 4 || email no. 1
Munich – July 22, 2016
Dear Turgut,
how are you doing these days? From looking at your Facebook page I get the impression that things are normal where you are. When I follow the news in Germany I get a very different impression. A political earthquake hit Turkey. What will be the consequences? What will happen next? What's the truth, what are lies?
On the one hand this seems not to be the proper time to write to you, on the other it seems to perfect timing. But you decide. Let me send you this mail with my questions and I hope you will answer.
Turgut, you are an ambassador for Jazz made in Turkey and travel the world as such. How did you get there? You started exploring the world of sound and rhythms almost 40 years ago as a child. But what exactly got you hooked on drums? And when did you decide to become a pro drummer / musician?
Training and research seems to be a big part of your life. Many years ago you spent half a year at the Rotterdam Conservatory in the Netherlands. And in 1996 you went to New York to study with Arif Mardin, true? Today you perform and you also pass on your knowledge. What are your workshops about? What are you teaching and to whom?
What about the Turkish drum scene, how would you describe it? Cymbals were born in China and Turkey and your country still has a big influence on cymbal manufacturing. Some of the best cymbal makers stem from there, like Zildjian. And companies like Istanbul Agop, Istanbul Mehmet, Anatolian and Murat Diril have their smithy there. Meinl signature cymbals are also hammered in Turkey.
How easy is it to learn how to play the drums in Turkey today? Are drums expensive? Are there many playing opportunities? Is it possible to make a living as a drumming musician in Turkey? What value does music have in your culture? I assume Istanbul is different from the rest of the country and thus is the music scene?
Are you still an official member of the Ministry of Culture in your country? Did you release a solo album? I'm not sure. However, I know where readers can check out your playing: on YouTube or live.
Okay, this much for today. I've gotta run …
Love & hope to Instanbul
Cat
And the reply from Istanbul ...
Istanbul – August 31, 2016
Dear Catrien,
first of all, I'm sorry for the late reply. I was busy. Thank you for your understanding.
My days are going well. I think nobody knows exactly what's happening in Turkey. I follow my heart and my life as I've always done.
Talking about Turkey, I've actually never been an official member of the Ministry of Culture. Instead I only attended events abroad hosted by the Ministry of Culture as a performer. But one thing after another, here are more answers to your questions.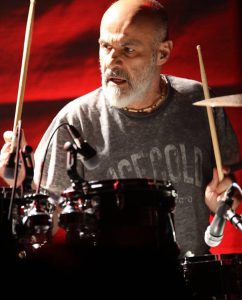 Becoming a Turkish drummer … 
I play drums for 45 years now. As a child I was interested in voices. So I was knocking on any object that I came across – I was wondering about how they would sound. Probably that's why I already hear how could an object sound like, before I play it.
As my friends were playing games on the streets, my choice was to stay at home for hitting things to try to play rhythms. In those days, I had no drumsticks, so I was playing with hands on tables and even on school desks. During lessons break, curious students were always coming and asking me to play some rhythms on the table. They listened in such pleasure.
Later on I made my own drumsticks from tree branches, because drumsticks were not to be found in stores. There also was no TV and telephone those days.
When my family finally owned a radio, I listened to every kind of music – mostly to rhythmic music though. I discovered the band Osibisa in the radio. That's how I was introduced to West African styles of music. And one day my uncle played a LP for me: The Ballroom Blitz by Sweet. I was very impressed, because this was my first experience with a LP. Before I had only  listened to the radio and tapes.
Luckily my father and uncle were very proud and pleased about my interest in drums and music. One day my father approached me and said: "Son, I found a song for you with a drum solo." We sat down together and listened carefully. It was very impressive. The song was Children of Sanchez by Chuck Mangione. As I found out later the drummer was the great Steve Gadd.
Since my father was also very interested in technology, he bought me my first radio, mixer, speakers and lighting system. With such equipment I was all set for playing music. I became a DJ for my friends' birthdays and weekend parties.
We also owned a Grundig TK125 tape recorder. Thus my father was recording music from the radio, speeches and singing in our family and also my mandolin playing and my rhythm playing on stools and objects.
When I grew up there were also no Compact Discs, but LPs as I already mentioned. I remember there being some music shops in town, that recorded LPs to tapes. Guess what I spend my whole pocket-money on?! On tapes, yes. There is something I used to do, which must have developed my perception of rhythm and music: I also recorded my own rhythm playing on this tape recorder while listening to recorded music from another tape. I was trying to synchronize both by pressing the play/pause buttons. Great experience.
In 1987, my father sold his car and bought a computer instead. I liked that, because I began to record all tapes onto this computer. My favorite drum players back then primarily were Elvin Jones and Jack DeJohnette. All these experiences were a kind of school for me. And I wished I had studied with Arif Mardin. But instead I received an invitation to contact him and get get support and consultancy from him. He suggested some useful things about music and music industry in USA to me.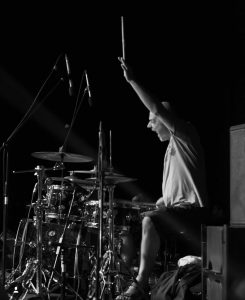 Change of subject: Anatolia then and now
As many might know, Anatolia (the Asian part of Turkey) has a very historical and colorful rhythm culture. Emigration from there into many parts on Earth enriched the worldwide rhythm culture. Musicians from everywhere are very thankful for the Turkish cymbal tradition.
Since 1995, the young generation has more interests on drumming in Turkey. It's still getting more and more. Actually, to learn drums in Turkey is probably as easy as in your country these days. We have lots of drumming courses, music events here. Furthermore my drummer generation teaches and helps the youngsters to find their own voices and ways. Of course teaching videos in the internet help as well.
I actually teach as well. My workshops are about drums, rhythm and ensemble playing. Besides holding private workshops while touring abroad, I also hold drum workshops and band workshops – mostly at the university or in concert halls after performing for musicians and non-musicians in different ages alike.
You asked about my solo album … I haven't released any album yet. But there's material ready for producing, that's almost worth ten albums. I am planning my first production for next year.
No life without music …
Finally, I think that all music listeners are very lucky because of a given gift which is music. I couldn't imagine a life without music. I am also aware about our planet being in need of more love and a higher consciousness. We should use the significant advantages of the communication age to develop music by interacting globally. I wish all listeners an enjoyable life with music to.
Last but not least, I thank you Cat for your effort and work for creating such an educational and significant webpage for music. Furthermore, I appreciate and thank my musician friend Erhan Ersin who helped me to express my opinions through editing and translating my words.
Love from Istanbul,
Turgut Alp Bekoglu