There are certain places every drummer / percussionist enjoys visiting. Walfredo Reyes Jr. introduced me to his favorite toy store: L.A. Percussion Rentals.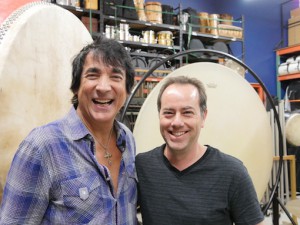 Do you know where Santa Clarita is? More improtantly, do you know what is located there? Yes, the Remo company is up there, just north of Los Angeles. Not as huge, but with an amazing collection of popular and rare percussion instruments, the town on the Santa Clara river is also home to L.A. Percussion Rentals (LAPR). This fine company was founded and is owned by percussionists Abby and Dan Savell.
Honestly I had never heard of the place until Walfredo Reyes Jr. suggested meeting him there for an interview. So sure, why not. When I flew to L.A. in the beginning of this year to attend the NAMM Show, I rented a car and was free to go anywhere. And I was very much looking forward to seeing Wally again, whom I first had met and seen perform live, when he was on tour with Chicago* in 2014. Actually he's still touring the world playing percussion with those legendary jazzrock players from the United States – teaming up with Tris Imboden on drums.
Walfredo Reyes Jr., Mr. Yin-Yang
Wally stems from a very musical family. His father Walfredo de los Reyes is a percussion legend himself. Wally's brother is a third generation musician as well. And Walfredo's daughter Lilliana de los Reyes tours the globe with George Benson. Wally has performed with artists like Santana*, Steve Winwood*, Traffic*, Rickie Lee Jones* and can be heard on many movie soundtracks as well.
Most of the time people hire Wally for adding his percussion magic to their tracks. What might no be known to a lot of people though is that Wally is also a very good drumset player. As a matter of fact that ability makes him the world-class percussionist that he is. He is very good at getting out of a drummer's way and at complementing his grooves. In the video he refers to playing either the yin or the yang part.
Open house, talking drums and busy hands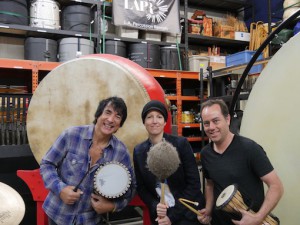 My last day in L.A. and the last chance to meet Wally at L.A. Percussion Rentals was a Saturday. When I arrived there, Dan welcomed me as a friend, even though we had never met or exchanged e-mails. He showed me around his special warehouse and happily introduced me to his insturments. By the way, on the LAPR website you as well have the opportunity to find out about how each of Abby's and Dan's instruments sounds like. Just go to their sound search page.
When Wally arrived, he said he was jet-legged. But in the following hours, I wasn't aware of that at all. In a very spontaneous way, he got behind a drumset that Dan set up for him and demonstrated his style of drumset playing. Watch how Wally adapts perccusion rhythms to the drumkit and also how he integrates a djembe and a shaker. And of course, don't miss out on the very personal tour through LAPR, where even the Poltergeist* left his traces.
Stay on or by(e)
Yours Cat
---
 Like what you see, watch and read? Let me know through the ❤ or at the bottom ⇣⇣⇣
Stay in touch, subscribe to my YouTube channel, follow me and like me, if you do. Thank you!
---
Get in touch with Wally
Wally's DVD
Global Beats for Drumset and Percussion (2005)*
Wally's new CD
Wally World (2016)
Wally's Gear
LP Percussion
Sabian Cymbals
Regal Tip "El Rockero" Drumsticks*
Remo Heads
DW Drums
Audix Microphones
Protection Racket Drum Cases
---
* Affiliate Link
An unique link provided to affiliates to promote an online service that is then used to credit sale commissions to the affiliate. If you buy through these links, you help me to continue my blog CAT with HATs. Thank you. Thanks a lot!