John JR Robinson is one of the most recorded drummers in music history. We briefly met before his only clinic appearance in Germany 2016, where he played some polka, his signature intro and other things for me.
A bag full of hit singles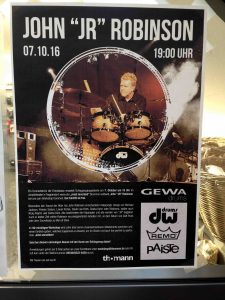 Waiting time for the audience at the Thomann auditorium. I am in a small village in Bavaria, where Europe's biggest music store happens to be located. At some point music comes out of the speakers. However, the drummer, who is supposed to do a clinic is still not in sight. For the younger people among the crowd,  it's simply some old songs they hear in the background. But for those who have been listening and dancing to music since the 1980s, almost every track seems familiar.
Soon it becomes clear that this medley of short snippets of well-known tracks is related to the star of the evening: John JR Robinson. They actually prove what kind of legend this groove drummer from the Unites States is. That's because JR Robinson played on every single one of them. No wonder someone started calling him the most recorded drummer in music history. And what a delight it is to watch the master perform some of his biggest hits right in front of me: "Rock With You" or "Ain't Nobody", I can't believe my eyes and ears.
Loving one's work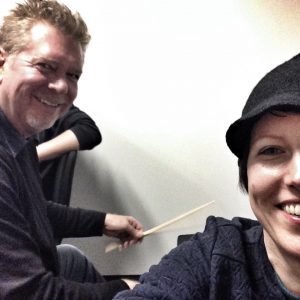 While John JR Robinson plays along to a number of unforgettable grooves, mere joy is written all over his face. When he plays,  I see a little boy on a fun adventure. As a matter of fact, I think that's one key to his success. This man truly loves his work. Last January during a press conference at the NAMM show I already witnessed his passion for music and beautiful sounds. Tonight JR puts his open secret in these words: "I like to make people dance and smile." Well, how lucky we are that you do, JR!
Speaking of lucky and drumming for fun. I am very lucky to be able to steal two minutes from JR between soundcheck, a factory tour, dinner and his clinic. Naturally I've always been curious how JR's à la carte grooves and intros would sound on his own laps or some stool. Now I know and you can find out in the video above as well. Enjoy and don't worry about the shortness. As JR said himself: to be continued …
Stay on or by(e)
Yours Cat
---
 Like what you see, watch and read? Let me know through the ❤ or  at the bottom ⇣⇣⇣
Stay in touch, subscribe to my YouTube channel, follow me and like me, if you do. Thank you!
---
Get in touch with John JR Robinson
Website
YouTube
Facebook
Twitter
What John JR Robinson performs in the video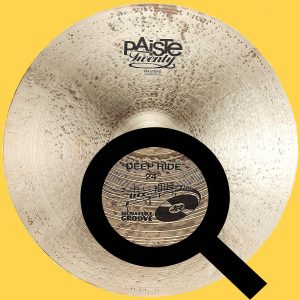 Steve Winwood – Higher Love
Michael Jackson – Rock With You
Rufus & Chaka Khan – Ain't Nobody
Eric Clapton – Change The World
Recordings with John JR Robinson on
Lionel Richie – We Are The World, All Night Long, You Are, Say You Say Me
Pointer Sisters – I'm So Excited, Slow Hand
David Lee Roth – I'm Just A Gigolo, California Girls
Steve Winwood – The Finer Things, Back In The Highlife
Madonna – Express Yourself
Michael Jackson – Off The Wall, Don't Stop Til You Get Enough, The Way You Make Me Feel, Smooth Criminal, Bad
Natalie Cole – Stardust
John JR Robinson – The Time Machine (DVD | 2011)
John JR Robinson's Gear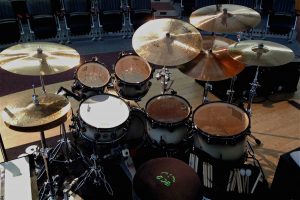 dw Drums
24″ x 18″ bass drum
12″ x 8″ rack tom
13″ x 9″ rack tom
16″ x 14″ floor tom
18″ x 16″ floor tom
14″ x 4″ brass snare
2x 14″ x 6,5″ brass oder wood snares
Paiste Cymbals
15″ Signature Dark Energy Dark Energy Hats
20″ Signature Full Crash
24″ Masters Deep Ride
24″ 2002 Swish-Ride
20″ Signature Dark Energy Crash
19″ Signature Full Crash
Remo Drumheads
bass drum: clear P3
toms: clear Emperor
snares: coated Emperor
RegalTip Sticks
JR Signature Sticks
JR Signature Brushes
Axis Pedales, Roland V-Drums, Latin Percussion, Danmar Percussion, XL Specialty Percussion, Tree Works Chimes, Porter & Davies, Shure Mikrophone, Monster Cables, Zoom, M-Audio