Brian Frasier-Moore looks back to 25 years of touring. Artists who call him for gigs are Madonna, Justin Timberlake, Adam Blackstone, Janet Jackson and other big shots. What's his secret? He told me.
London calling all drummers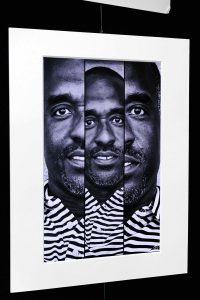 I'm so glad I brought along my ear plugs to Great Britain. When I open the doors to the third floor of the Olympia, a huge exhibition centre in West London, I do not have a clue yet what I am about to experience. A wall of high and deep sounds hits me, but doesn't bring me down. The hall I am in is filled with drum gear of different companies: I am at the London Drum Show. Had I brought my sticks, I could have hit on anything, too. But I am here for other reasons: interviews with great drummers.
The first one on my list is Brian Frasier-Moore. I actually just ran into him or rather into a picture of him taken by Francesco Desmaele. The latter is a photographer from Italy, whom you might see at every major drum event. So check him out, in case you need some new photographs of your drumming self. Anyway, the second time I run into Brian is … at a location and time yet to be announced. And the third time we meet, is outside of the main stage on the fourth floor of the Olympia. He is surrounded by people and seems almost as popular as the artists he plays for.
Where star drummers meet: at Olympia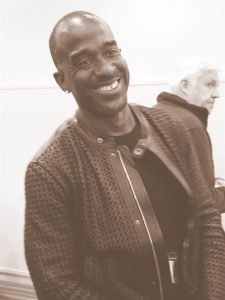 Have you heard of Brian Frasier-Moore yet? If you go to a Madonna, Justin Timberlake or Usher concert, the chances are very good that you will hear him play the drums. He's also played all major US television shows and recently he even performed for President Obama at the White House. So it seems, as if Brian Frasier-Moore is an outstanding drummer. What better place to meet than at Olympia? I'm talking about the Hilton Hotel Olympia in London of course.
That's the place he suggests one day before the show via email. Even though he's not sure about the time yet, he's willing to talk right upon his arrival at his hotel – sometime in the evening. Great. After not receiving all of eachother's emails, we happen to run into eachother at the lobby. Happy ending? Almost. Before I can search for a quiet, not too dark place, Brian introduces me to some of his drummer pals. One of them happens to be Eric Moore, whom I will also interview.
I missed one thing though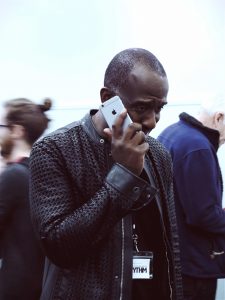 But first things first. Finally I get the chance to ask Brian Frasier-Moore, how he manages his career and why he keeps getting called to play these big gigs. From the first second we've met, Brian is very open and extremely friendly. That doesn't change during the interview. He's also a very honest and humble human being, who is easy to talk to. Therefore I receive answers to all of my questions and I don't need to edit my material much at all.
Watch the video to take a journey to Brian Frasier Moore's roots and to find out about his open secrets to success in the music business. Should you happen to be even more curious afterwards, contact Brian at BFM World. He offers consultations for anybody working in the music industry. And if you want to see him play live, follow him on his socials to stay up to date.
Don't schedule a short interview with Chris Coleman right before the show though. Yes, I did that and it was many things – you can read about and see it here later. Unfortunaley by the time I've got my gear packed, the last people of the audience leave the auditorium. Backstage people are already taking down Brian's drums. And the only real drummer Madonna pays attention to? Gone. I missed him. So I guess, I will get a ticket for the next Timberlake show.
Stay on or by(e)
Yours Cat
---
 Like what you see, watch and read? Let me know through the ❤ or  at the bottom ⇣⇣⇣
Stay in touch, subscribe to my YouTube channel, follow me and like me, if you do. Thank you! 
---
Get in touch with Brian Frasier-Moore
Website
YouTube
Facebook
Instagram
Twitter
Media and drummers Brian Frasier-Moore mentions in the video
Jeff Davis – Gospel and R&B Drumming (Book | 2013)
Anthony "Spike" McCray
Garfield Williams
Lil' John Roberts
Dom Famularo
Omar Hakim – We Are One (CD | 2014)
Thomas Lang
Madonna – Rebel Heart (CD | 2015)
Justin Timberlake – The 20/20 Experience (CD | 2013)
Adam Blackstone
Janet Jackson – Control (CD | 1986)
Dontae Winslow – Enter The Dynasty (CD | 2014)
Recordings with Brian Frasier-Moore on
Kenny "Babyface" Edmonds – Playlist (CD | 2007)
Marvin Sapp – Be Exhalted (CD | 2005)
Larry Gold presents Don Cello & Friends (CD | 2003)
Christina Aguilera – Stripped (CD | 2002)
Soundtrack – In Too Deep (CD | 1999)
Eric Benét – A Day In The Life (CD | 1999)
Brian Frasier Moore's Gear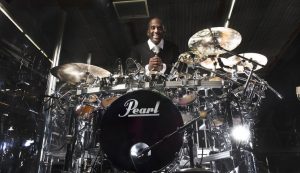 Pearl Drums
Sabian Cymbals
Evans Drumheads
Vater Sticks
Drumstatic Custom Drumheads