1.500 active students! Unbelievable? Not in Dom Famularo's world. Have you come to experience the true adventure of teaching yet? The man you are about to see has. Otherwise the number of students he teaches wouldn't be this high. When you watch this video, you'll come to understand how he does it and why he is so very good at it.
Playing vs. explaining
I've been wanting to do a special about drum education for a long time. Having a teaching background myself, over the years it has become something I got more and more interested in. In the beginning, when I was still a student myself, I taught to gain some spending money. I didn't really have a plan of what I was doing. I simply passed on what I had learned from my teacher.
The more teachers I had, the more knowledge I gained about drums and music, but also about teaching, at least passively. By that I mean, being able to play the drums is not the same as being able to teach someone how to play the drums. Actually it's a whole different subject. When you play, you play. When you teach, you explain and guide and show and so on. If you want to enjoy teaching, you have to be good at it. And if you want to be good at it, you need to be aware of a few things.
Dom Famularo's wisdom
One person, who definitely is aware of more than a few important things that matter when teaching, is the Drumming's Global Ambassador Dom Famularo. Ever since he was a little kid, he has been curious about the drums. He went to see his idols – Joe Morello, Al Miller, Jim Chapin, Papa Jo Jones, Shally Manne to name a few – to learn from them and to absorb everything they had to offer. And he did well. Dom was a pro player by the age of 12.
At some point Dom kind of switched more to the other, to the teacher side. For 40 years Dom has been traveling the world performing clinics and motivational speeches. In addition he functions as an Education Consultant for Sabian Cymbals. And he also did for me. It's been a tremendous honor and a real pleasure to steal some of Dom's time. Listening to Dom speak is always a joy and most often enlightening.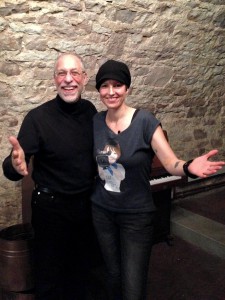 10 questions & 12 personalities
I asked Dom about a typical first lesson with his students. Which ten questions help the teacher best to find out most about the future student? Dom's exemplifications are very conceptional. Just watch and take notes.
In the second part of the video Dom talks about the twelve personalities, a successful teacher is able to call up and slip into during a lesson. All in order to reach out to the student in a very effective way.
To me all of Dom's explanations make sense. And I only wish, I've had that knowledge when I was teaching for a living. But hey, the info is right here, you are here, too, so make great use of it!
Stay on or by(e) and visit Dom here …
Yours Cat
Dom's books & gear
Books, Dom has written or co-written:
The Cycle of Self Empowerment by Dom Famularo
It's Your Move by Dom Famularo with Joe Bergamini
Eight-Notes Rock and Beyond by Glenn Ceglia and Dom Famularo
Drumset Duets by Dom Famularo with Stephane Chamberland
The Weaker Side by Dom Famularo and Stephane Chamberland
Open Handed Playing Vol. 1 by Claus Hessler with Dom Famularo
Open-Handed Playing Vol. 2 by Claus Hessler with Dom Famularo
Pedal Control by Dom Famularo and Joe Bergamini with Stephane Chamberland
Groove Facility by Rob Hirons and Dom Famularo
Odd Feelings by Massimo Russo with Dom Famularo
Books, Dom recommends:
Elements by John Favicchia
A View from the Side by Michael Visceglia
Arrival Drum Play-Along by Joe Bergamini
Drummer's Guide to Big Band by Garey Williams
The Hi-Hat Foot by Garey Williams
The Pulse of Jazz by Nic Marcy
and the classics …
Advanced Techniques For The Modern Drummer by Jim Chapin
Stick Control by George Lawrence Stone
Accents and Rebounds by George Lawrence Stone
Funky Beat (Book & CD) by David Garibaldi