Will Hunt hits drums without compromises – for Evanescence, Vasco Rossi, Mötley Crüe and others. But preparation is key and writing clear and easy-to-read flow charts helps. See how it's done.
Sticks From And For Will Hunt
The organizer of the drum camp comes running towards the Meinl stand. He seems very tense. We are at the Musikmesse in Frankfurt. The next of the hourly performances inside a small, soundproof booth is about to start. There is just one problem: the drummer has no sticks. Do you wonder, which pro drummer shows up at a gig without sticks? I am wondering something else: who stole 50 pairs of sticks and why? Because that's what happened. And it happened to Will Hunt.
However, what better place to be in need of drum gear than at a music fair? The Evanescence drummer starts his show in time. Not with his first choice sticks, but with lots of extra energy and anger. I am only watching from outside, for the booth is completely packed. It doesn't take long though until the door opens again. The first audience members are quickly leaving and cover their ears. What a burst of sound and energy! No wonder Will sometimes gets confused with Taylor Hawkins from the Foo Fighters.
Pulling Will Hunt On My Drummer Map
Before I took a train to the Musikmesse in Frankfurt I knew which drummers would play and teach there. Thus I arranged interviews with Michael Schack and Jost Nickel. Please stay tuned for those posts and videos. Anyway, there were other interesting drummers as well, but none that I hadn't talked to before or whom I was curious about. Will Hunt for example didn't ring a bell with me. Probably because I hardly ever listen to gothic metal or gothic rock.
Things can change quickly though and I am glad they do. I get introduced to the energetic pocket drummer from Florida by one of his endorsers. "Do you have time for an interview?" "Yes, sure. Tomorrow, two o'clock." Great. As it turns out, I love Will Hunt's life motto. Curious? Just watch the video. Furthermore, we even do have something in common. Will was born in Gainesville Florida. I wasn't, but I was an exchange student in North Central Florida once. And Gainesville was the city, where we went to see a movie and also where I took drum lessons.
The Art Of Writing Flow Charts
Something I didn't learn back then was writing flow charts. That means being able to transfer the musical information a song provides onto a piece of paper. For drummers it's about listening to the form of a song, as well as to its drum part. The goal is to collect and write down as much information as possible. The final piece of paper should enable you to get through that very same song, even though you've never played it before. Only years later at the Los Angeles College of Music I learned how to do that.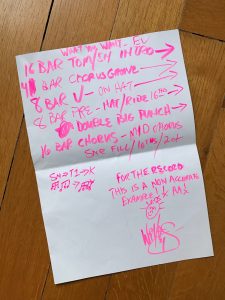 My teachers called it a road map. Being busy studio musicians, you might be able to imagine how good and quick they were at drawing up those quick charts. They come very handy when you need to prepare a lot of songs within a very short period of time. Will Hunt knows that only too well. Once Tommy Lee called him and asked how quick he could make it to the next airport. Between that call and stage time, Will only had an eight-hour flight to prepare his parts for a whole show.
He did very well and thus, I was wondering about Will's method of writing flow charts. Before you watch the video, I can spoil you with the following info: First and most of all your charts must be written neatly and clearly. If you are in a situation, in which you rely on them to get through the song, you mustn't mess up. As the drummer, it's your responsibility to keep the train running. So do whatever you have to do.
Will Hunt was so kind and patient to draw out a flow chart for you. He picked What You Want by Evanescence. Because Will did do so very spontaneously and by heart, he added the following words at the end of the chart: "For the record: this is a non accurate example! Ha!" Nevertheless, I think you will get the idea. Have fun creating your own flow charts and getting to know drummer Will Hunt a little.
Stay on or by(e),
Yours Cat
---
 Like what you see, watch and read? Let me know through the ❤ or  at the bottom ⇣⇣⇣
Stay in touch, subscribe to my YouTube channel, follow me and like me, if you do. Thank you! 
---
Get in touch with Will Hunt
Will Hunt plays in these bands
Evanescence | WhiteNoiseOwl | RivalCity | Will Hunt Band | Vasco Rossi
Media and artists Will Hunt mentions in the video
Peter Criss: Peter Criss (CD | 1997)
KISS: The Very Best of … (CD | 2002)
Led Zeppelin: Remasters (2CD | 1999)
The Police: Greatest Hits (CD | 1992)
Van Halen: Studio Albums 1978 – 1984 (6CD | 2013)
Steve Gadd: Gadditude (CD | 2013)
Steely Dan: The Very Best of (2CD | 2009)
Earth, Wind & Fire: Boogie Wonderland: The Best of (2CD | 2011)
Slayer: World Painted Blood (CD | 2013)
Mötley Crüe: Decade of Decadence (CD | 1991)
Tommy Lee: Tommyland – The Ride (CD | 2005)
Will Hunt's gear
Pearl Drums
Zildjian Cymbals
Vater Sticks: Virgil Donati Assault Sticks
Remo Drumheads