Russ Miller is one of the first call studio drummers in Los Angeles. He knows the difference between honesty and dishonesty behind the drum kit and much more. Watch what it sounds like.
Spectectular Moments
I had two dates with Russ Miller at the International Drums & Percussion Camp in Weinfelden Switzerland. First of all, there is always the research about an abstract person, then you actually meet with that person in real life. For my prime interview with Russ, we met during Pete Lockett's soundcheck and before Russ'. He really took his time and I got all the answers I needed.
Almost the only things missing were some photos and a fixed time for my second date with Russ. After all I really wanted to get him in front of my camera and share some of his wisdom and experience as a first-call studio drummer. The photos I got in the evening when Russ played at the final concert of the festival. At the same time I got something else: a reminder of such excellent drumming that makes incredible music.
Most of all it's a bliss to hear and see Russ Miller play the drums. That's probably because of his honesty behind the drum kit. First of all he truly means what he is playing, secondly he's got a sophisticated technique and thirdly he makes such beautiful musical choices while hitting his drums. When watching him from backstage, I immediately knew what I was going to ask him to show me and my camera the next day: "show me some honest playing".
Like A Colorful Bird
For the longest time I didn't even know that I too had heard Russ Miller's playing before. I was only familiar with his name, because it pops up quite often when you wander around the drum scene. He's often voted second best studio drummer right behind Vinnie Colaiuta in different reader polls. Speaking of, his entrance ticket into the L.A. recording scene was Nelly Furtado's debut album "Whoa, Nelly!" in 2000. A few people missed hearing the hit single "I'm Like A Bird"* off of that record that year.
When I did some research in order to prepare for an interview, I found out that Russ Miller is somehow like a bird, too – a colorful one. He's not only fluent in different styles of music and has played on a lot of albums and soundtracks, he also has some solo records out and leads his own band called Arrival. As a clever business man he knows how to do self-marketing.
And as a musician who loves his instrument, he knows how to invent and develop useful gear for drummers. Yes, it was Russ Miller who came up with Yamaha's Subkick and also with the Groove- and Cascara-Wedge. For Meinl Percussion he designed a "multi-bell" that can quickly be muffled while playing.
Give More Than What's Expected
As in most of my video interviews I also gave Russ Miller some basic questions in order to receive an artist profile. Consequently you find out about his honest playing, but also much more. Because Russ Miller is both a student and a teacher for lifetime, he didn't mind patiently talking into my camera during his well-deserved break on the last festical day. I bet you will enjoy listening to his answers and examples, too.
Finally, it really makes sense that Russ Miller's answer to my question concerning his life motto was: "Give more than what's expected." After all Russ gave me two interviews and in addition four of his own CDs. If you get a chance, have a listen to them.  You'll hear outstanding musicians playing some incredible music. But you know what to do first: . 
Stay on or by(e),
Yours Cat
---
 Like what you see, watch and read? Let me know through the ❤ or  at the bottom ⇣⇣⇣
Stay in touch, subscribe to my YouTube channel, follow me and like me, if you do. Thank you! 
---
Get in touch with Russ Miller
Website
Facebook
Instagram
Twitter
YouTube
Media and artists Russ Miller mentions in the video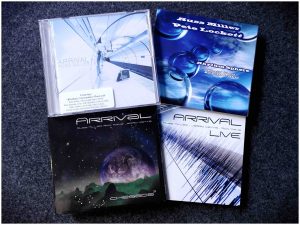 Andrea Bocelli*
Kavita Krishnamurthy
Dr. L. Subramaniam*
Arrival
Bobby Coldwell*
Tom Scott*
Buddy Rich*
Peter Erskine*
Al Jarreau – Tenderness (CD | 1994)*
Michael Brecker – Nearness Of You / The Ballad Book (CD | 2001)*
James Taylor – Live (CD | 1993)*
Peter Gabriel – Up (CD | 2002)*
Tower Of Power*
Toto*
Stefano di Battista – 'Round About Roma (CD | 2002)*
André Ceccarelli*
Rush*
Journey*
Sting*
Recordings with Russ Miller on
Russ Miller & Pete Lockett: Rhythm Sphere (CD | 2014)*
Arrival: Chegada3  (CD | 2013)*
American Idol Mentor Session: Gwen Stefani & Toni Kanal (CD | 2012)
Arrival Trio: Live (CD | 2011)*
Steve Perry: Still Here (CD | 2009)
Russ Miller: Arrival (CD | 2007)*
Tina Turner: All The Best (CD | 2006)*
Ray Charles: Millenium Sessions (CD | 2004)
Richie Garcia: Play Congas Now (book & CD | 2003)*
Nelly Furtado: Whoa, Nelly! (CD | 2000)*
Russ Miller's Gear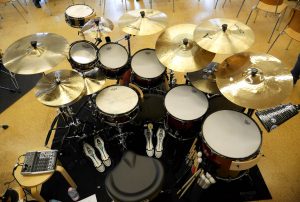 Drums: Mapex "Saturn" Maple/Walnut
22″ x 16″ Bassdrum
16″ x 16″ Bassdrum
14″ x 4 5/8″ Russ Miller "Versatus" Snare
10″ x 7″ Racktom
12″ x 7 1/2″ Racktom
14″ x 13″ Floortom
16″ x 15″ Floortom
Zildjian Cymbals
15″ Kerope Hi-Hats
14″ Avedis Hi-Hats
18″ Avedis Cymbal
19″ Kerope Cymbal
22″ Avedis Ride
22″ Constantinople Med. Thin Ride mit 8 Rivots
17″ A Custom Crash
20″ "Cluster" Crash
Remo Drumheads
Toms: Coated Ambassadors Top & Clear Ambassadors Bottom
Snare: Fiberskyn3 Diplomat Top
Bassdrum: Renaissance P3 Batter
Vic Firth Sticks
Russ Miller Signature SMIL "Hi-Def" Sticks*
Russ Miller Signature RMWB Brushes*
Yamaha
Russ Miller RMGW Groove-Wedge
Russ Miller RMCW Cascara-Wedge
Russ Miller SKRM100 "Subkick"
Other …
Meinl Percussion
Meinl Russ Miller "Multi-Bell" RM80B Cowbell*
Mapex Hardware
SKB Cases
---
* Affiliate Link
An unique link provided to affiliates to promote an online service that is then used to credit sale commissions to the affiliate. If you buy through these links, you help me to continue my blog CAT with HATs. Thank you. Thanks a lot!