Matt Halpern is best known for his loose, funky progressive metal drumming with the US band Periphery. We met before soundcheck for his clinic in Munich and most of all talked about Matt's approach to building drum grooves.
Matt Halpern in Munich
Four minutes before noon my cell phone rang. Yes, my date with Periphery drummer Matt Halpern was confirmed. Yeah! We would meet between sound check and the clinic. It would be Matt's first performance on his short European tour. So I went through my questions again, packed my recording gear into my backpack, put on my helmet and biked to the town centre. My destination was the so-called Cord Club.
Of course things were different than expected when I arrived, but that's show business. You always need to be prepared, flexible and ready to improvise. No drums on stage yet and an artist with time. Great, let's go!
What I wanted to know from Matt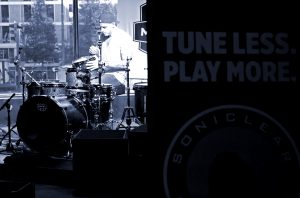 Even though behind schedule and jet-legged, the Mapex tour manager introduced me to a very relaxed, energetic and debonair Matt Halpern. He is just the way you'd expect him to be after watching some videos with him. If you haven't done so yet, just watch mine.  Among many things you will also find out why Matt is the outstanding groove drummer that he simply is.
So, no drums – change of plans, at least for one part. The habitual short profile is certainly not affected. Good. So what I really wanted to know from the funkiest metal drummer, that I know of, was this: "How do you come up with your drum parts – in general and especially for Periphery?" Are you curious, too? Well, Matt gave me a very in-depth answer.
Since we had a few more minutes and some bytes on my memory card left, I passed on the question of my Iranian keypal Alireiza Tabatabaei. Via Instagram he had sent me the following question: "How would you teach someone musicality?" Once again, Matt had a reply that really made sense to me.
Matt's clinic at the Cord Club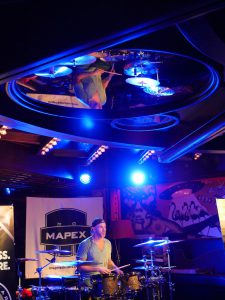 When our interview was over, the evening had just begun. Matt still had to set up his drums, tune them and do a clinic for his  Bavarian fans. Sure enough I stayed for that and I really liked what I saw and heard. Matt played 4.5 Periphery songs, talked about the importance of body movement on the drums, about his interpretation of ghost notes, blast beats, weak hand training and of course about the Mapex Soniclear bearing edges.
What a natural entertainer Matt Halpern is and what a great clinician as well. He always kept in touch with the crowd and involved them. It's not always easy to read a German drummer audience: no head-banging, no dancing, but critical ears and eyes wide open. However, at the end I saw lots of clapping hands and mobile phones, ready to take selfies with the master.
Life Changer Songs and Grooves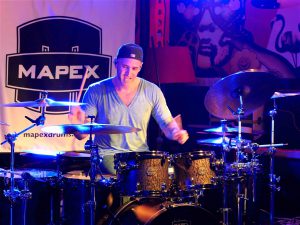 In the end of the clinic one drummer from the audience wanted to know which music Matt used to play along to. "Many", was his answer. Nevertheless there have been a few real life changer songs and grooves in Matt Halpern's life. Matt named the Screaming Headless Torsos' "1995" with Jojo Mayer on drums, "Operation: Mindcrime" by Queensrÿche and YYZ by Rush as big influences on his playing. Last but not least "III Sides to Every Story" by Extreme taught him the importance of melody.
I also collected some albums and artists of importance in Matt Halpern's musical journey. You know what to do, to find out: watch the video and scroll down to the list of links. Go ahead, I'm done with my writing. Enjoy the video.
Stay on or by(e)
Yours Cat
---
 Like what you see, watch and read? Let me know through the ❤ or  at the bottom ⇣⇣⇣
Stay in touch, subscribe to my YouTube channel, follow me and like me, if you do. Thank you!
---
Get in touch with Matt Halpern
YouTube Channel
Facebook
Twitter
Instagram
Periphery
Get Good Drums
Deep V Apparel
Media and drummers Matt mentions in the video
Dennis Chambers
Metallica – Metallica / "The Black Album" (CD | 1991)
Devin Townsend Project – Transcendence (2 CD | 2016)
Survive – Rr7349 (CD | 2016)
Tigran Hamasyan – Mockroot (CD | 2015)
Periphery – Lune (Single | 2016)
Recordings with Matt Halpern on
Periphery III – Select Difficulty (CD | 2016)
Periphery II – Juggernaut Alpha/Omega (CD | 2015)
Periphery – Clear (EP | 2014)
Periphery II – This Time It's Personal (CD | 2012)
Periphery – Icarus (EP | 2011)
Periphery – Periphery (CD | 2010)
Matt Halpern's Gear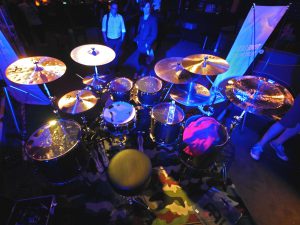 Mapex Drums
Mapex 14″ x 6″ Wraith Snare Drum
Meinl Cymbals
Evans Drumheads
ProMark Sticks