How do you recognize your favorite musicians? You know what they sound like, but do you also know what their hands look like, when they play? Photographer Marc Mennigmann looks at musicians' hands in a peculiar way.
The variety of musicians' hands
Most drummers are familiar with the faces of Steve Gadd, Dennis Chambers and Marco Minnemann, but how about the most important parts of any musicians' body, when it comes to creating music? What do musicians' hands look like? For German photographer and musician Marc Mennigmann was and still is very curious about the musician's control tools, he started The HANDS Project. Instead of portraying the participants by taking a photograph of their head, Marc takes a picture of the hands, posing as if they were playing their instrument.
The results are both beautiful and omnifarious. Even though Marc always takes the photos the same way, the result certainly is always different. Have a look at the artists, who took part so far yourself. I find it amazing how much of a trademark one's hands are. Seems as if hands not only play a big part in telling stories, but they are a story in themselves. Hands mostly do have a lot of  character. And it's quite easy to distinguish people just by looking at their hands.
My hands being a part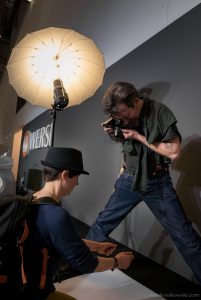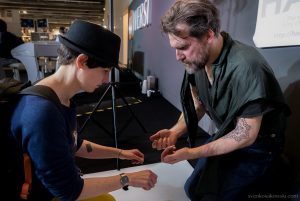 The list of musicians who held their hands under Marc Mennigmann's camera is growing and includes some big names: Chester Thompson, Abe Laboriel, Nils Landgren, Mike Stern and Steven Wilson. Now guess what?! My hands are also a part of the project. Yes, what an honor! I had the pleasure of meeting Marc at the Musikmesse in Frankfurt this April. Drummer buddy Sven Kosakowski introduced us and then it all went very quick and chilled at the same time.
We went to Marc's little photo studio inside the exhibition hall, which was just a piece of white background, a flash and his monochrome camera. Then Marc told me to simply hold my hands like I'm doing when playing the drums. He took a couple of shots, Sven was in charge of the making-of and done. Last week I received the photos via e-mail. How awesome!
Will your hands be next?
The great thing about this project is that Marc not only captures musicians' hands which belong to the big names in the music industry. He might be willing to visit YOU as well – before or after a concert in Germany. It all depends on your hands: what they've already touched in their existence, whether or not they are able to tell an interesting story in Marc's view.
Once he has done his job, Marc is able to give you all sorts of prints of your unique playing hands. That'll make a great piece of art in your living room or wherever. So who knows, maybe your hands will be next in Marc Mennigmann's project.
Stay on or by(e)
Yours Cat
---
Get in touch with Marc Mennigmann