Chris Coleman had a fight with a metronome at the London Drum Show 2016 – he won. Afterwards he took some time backstage to explain why counting is so important.
Precision and Power at London Drum Show
When Chris Coleman enters a stage, a fireball of positive energy hits every single person in the audience. Chris has an instructional DVD out that describes his attitude behind the drum kit best: Playing with Precision and Power. So far I witnessed his strong command twice: first at the Sonor Days in 2014 and lately at the London Drum Show (LDS) 2016. Chris was pretty busy performing on the main stage and also educating drummers in the so-called Education Zone.
It's obvious that he first of all loves playing music and secondly, he loves to share his passion. For his first performance Chris Coleman brought a little friend, a very stubborn and single-minded one: a metronome. Sounds rather unpleasant, but the two had a lot of fun together. Actually not only the two, the audience joined the team. For minutes the drum crowd made various rhythm patterns audible by their clapping – against the metronome and against Chris Coleman's outburst. Polyrhythm madness.
Counting à la Chris Coleman
On top I wrote that Chris won the fight, but sparring is a better word for it. After all the metronome is Chris' friend and not his enemy. He can absolutely count on the machine, which provides a frame in which Chris can go crazy in. And he does so with ease and joy. But he as well had to learn how to play with a metronome and how to count the hard way. Watch the video to find out what his teacher once advised him to do. And if you don't have a clue why counting is important, listen to Chris' explanation.
It's not been easy to get a hold of Chris Coleman. Finally I stole the last 20 minutes of his time at the LDS. His drums were already on the way out and Chris was hungry, but he still took the time to answer my usual questions, as well as some special ones for him. While he did, he was very polite, thoughtful and down to earth. The extrovert entertainer side of him must be attached to his instruments. I am glad I experienced both. Do so too, if you get a chance.
Stay on or by(e),
Yours Cat
---
 Like what you see, watch and read? Let me know through the ❤ or  at the bottom ⇣⇣⇣
Stay in touch, subscribe to my YouTube channel, follow me and like me, if you do. Thank you! 
---
Get in touch with Chris Coleman
Media and artists Chris Coleman mentions in the video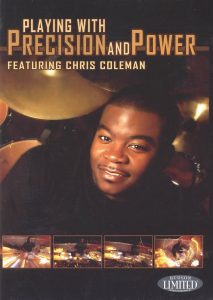 The Paradigm
Earth Wind & Fire: Boogie Wonderland (CD | 2011)
Chaka Khan: Original Album Series (CD-Box | 2010)
Dave Weckl: Master Plan ( CD | 1990)
Vinnie Colaiuta: Vinnie Colaiuta (CD | 1980)
Dennis Chambers: Getting Even (CD | 1995)
Richard Bona: Heritage (CD | 2016)
Prince
Stevie Wonder
Sting
Chris Coleman: Playing with Precision and Power (DVD | 2008)
Some artists Chris worked with

Christina Aguilera
Beck
Regina Bell
Randy Brecker
Larry Carlton
Stanley Clarke
Bootsy Collins
George Duke

Sheila E
Escovedo Family
EnVouge
Rachelle Ferrell
Dave Grusin
LaLah Hathaway
Isreal & New Breed
Chaka Khan

Patti Labelle
NKOTB
Prince
Lee Ritenour
David Sanborn
Mike Stern
Dave Weckl
Stevie Wonder
Chris Coleman's Gear
Sonor Drums
Meinl Cymbals
Vic Firth Drumsticks …
Chris Coleman Signature American Hickory Wood Tip Drumstick
Evans Drumheads