Are you familiar with Gregg Bissonette? Yes, the versatile and happy-go-lucky drummer from California. He is one of the first call studio drummers in Los Angeles. His phone may ring, when guys like Vinnie Colaiuta or Simon Phillips have to pass on a gig.
Therefore Gregg is also a star in Ringo Starr's All Starr Band and played with artists like Maynard Ferguson, Gino Vanelli, David Lee Roth, Santana, Toto, Don Henley and Ringo Starr. What a résumé and that's only a few people. Scroll down to find an excerpt of Gregg's discography.
Crossing paths with the drummer dude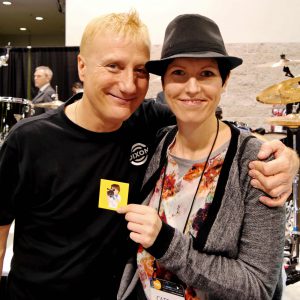 Already two and a half times I've had the pleasure of meeting Gregg Bissonette in person. The first time was in Berlin, where he gave a clinic. That must have been in 2003. What an entertainer that man is. Actually I do have a picture of the two of us, but unfortunately I cannot find it at the moment. But I do have one from our most recent encounter: NAMM Show 2016 in Anaheim, USA.
As many other drummers I stood in line to get closer to Gregg. Yet contrary to the others I wasn't after an autograph, I just wanted to say hi to Gregg. When I finally made it, it didn't take Gregg long to remember me – not from the clinic 13 years ago but from a telephone interview a year earlier.
Gregg Bissonette's solo work
In that interview we also talked about Gregg's third solo album Warning Will Robinson! (2013). Since I had already been a fan of his second solo record Submarine (2000) and his instructional DVD Musical Drumming In Different Styles (2005), I had to get a copy of this one as well. It's especially relevant because it comes with a second disc, where the tunes come without drums. That makes great play-along fun.
In the just mentioned DVD, Gregg Bissonette gives a lot of valuable information about many aspects of drumming. Among the tips are also a few tips on how to be a better gigging drummer. And that's exactly where the quote on top is from. But I cut Gregg's words short. It's worthwhile to watch the whole part or even the complete DVD though. While you do that, I try to catch him somewhere, sometime and do a video with him. So …
Stay on or by(e)
Yours Cat
---
 Like what you see, watch and read? Let me know through the ❤ or at the bottom ⇣⇣⇣
Stay in touch, subscribe to my YouTube channel, follow me and like me, if you do. Thank you!
---
Gregg Bissonette's solo albums
Warning Will Robinson! (CD | 2013)*
Submarine (CD | 2000)*
Gregg Bissonette (CD | 1998)*
Gregg's instructional DVD
Musical Drumming In Different Styles (2005)*
Some recordings Gregg's drumming is on
Spinal Tap – Back from the Dead (CD | 2009)
Ray Charles – Genius & Friends ( CD | 2005)
Duran Duran – Pop Trash (CD | 2000)
Don Henley – Inside Job (CD | 2000)
Santana – Supernatural (CD | 1999)
Various –Burning for Buddy II (CD | 1997)
David Garfield – Tribute To Jeff (CD | 1997)
Steve Vai – Fire Garden (CD | 1996)
Joe Satriani – The Extremist (CD | 1992 )
Frank Gambale – Thunder From Down Under (CD | 1990)
David Lee Roth – Skyscraper (CD | 1988)
Find out more about Gregg Bissonette
Website
Facebook
Twitter
YouTube
Gregg Bissonette loves to play …
Dixon Drums
Sabian Cymbals
Vic Firth Gregg Bissonette Signature Sticks
Remo Drumheads
dw Hardware
LP Percussion