Eric Moore is a flashy, extremely energetic dead-aim drummer with fast hands, sure. As a musical chameleon with a deep pocket and a clear mindset he keeps pushing forward. We met backstage in London and I got to see yet another side of him.
Killing it at the London Drum Show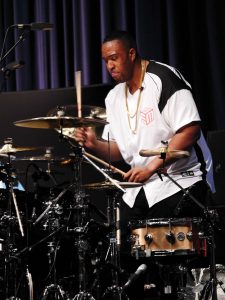 The auditorium at the London Olympic is packed once again. Across from a bunch of anxious drummers a pretty big drum set is parked on stage. Two bass drums, two floor toms, two rack toms, two snares and about 12 cymbals are waiting for their owner: Eric Moore. They are ready to make some noise and Eric is pumped with energy to make sense of many, many notes.
While he plays, he radiates such coolness, sobriety, dominance and positive energy. Obviously this guy loves his instruments and what he can do with them. He adds a deep pocket to the tracks he plays along to. And when it's time for a free solo, Eric even gets up, plays while standing and takes the listeners on a roller coaster ride. Sure enough he has prepared some chop surprises for every other curve. He's killing it, like he prefers to do.
Staying motivated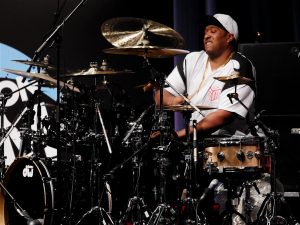 That's also how Eric Moore enteres the drummer scene in 2003. He wins the Guitar Cenrte Drum Off with his exact, powerful and dynamic playing. This triumph is like a door opener for Eric, who of course isn't really new to the scene. As a matter of fact, that has been Eric's fifth attempt to win the Drum Off. He's quite ambitious, determined and has absolutely no problem to stay motivated.
A year later he becomes one of the founding fathers of the gospel chops movement. He also receives his first endorsement deal and begins touring with acts like Sly & The Family Stone and Bobby Brown. Even though that's a quite comfortable place to be at, Eric Moore has more things on his agenda to strive for. He begins drumming for the Suicidal Tendencies, for T.R.A.M. and by now he's even got his very own project named Lillake.
Meeting by chance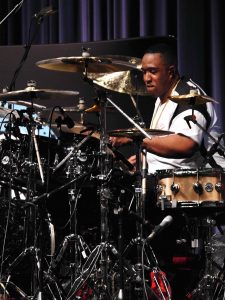 To be honest, I wasn't very familiar with Eric's story and his playing until one day before his mentioned performance. That's due to the fact that I am kind of tired of … let me call it the sports drumming style. I was never interested in the whole gospel chops movement, for I am more into Lez Ismore. However, I truly respect the craftsmanship of drummers, who play more and faster than my eyes and ears can comprehend.
Furthermore I am curious about those drummers' thoughts, perceptions and ways of functioning. Lucky me, I received a chance to get my questions answered. How wonderful that one of the biggest contributors to the gospel chops style himself came up to me and said: "Hey, I wanna do an interview, too." Only half an hour before that Brian Frasier-Moore had introduced us to eachother at a hotel bar. A day later, I meet with a very humble, open and kind Eric Moore. Meet him too in my video.
Stay on or by(e)
Yours Cat
---
 Like what you see, watch and read? Let me know through the ❤ or  at the bottom ⇣⇣⇣
Stay in touch, subscribe to my YouTube channel, follow me and like me, if you do. Thank you! 
---
Get in touch with Eric Moore
Website
Facebook
Instagram
Twitter
YouTube
Media and drummers Eric Moore mentions in the video
Lillake – Become (MP3 | 2016)
Dennis Chambers – Planet Earth (CD | 2005)
Jay Z – In My Lifetime, Vol. 1 (CD | 1997)
Danetra Moore – Light In The Dark (CD |2015)
Michael Bland: Prince – 3121 (CD | 2006)
Dennis Chambers & Tony Royster Jr. – Common Ground (DVD | 2004)
Eric Moore II – The Experience (DVD |2014)
Recordings* with Eric Moore on
T.R.A.M. – Lingua Franca (CD | 2012)
Suicidal Tendencies – 13 (CD | 2013)
Eric Moore's Gear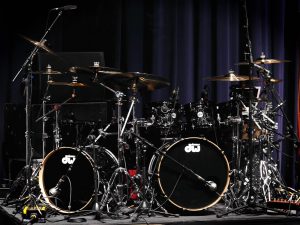 dw Drums
Zildjian Cymbals
ProMark Sticks
Aquarian Drumheads
Danmar Beaters