Sexism is as old as mankind. Unfortunately it remains a big topic all over the world. How much of an issue is sexism in the music world though? Let me share my experiences as a freelancing female drummer and music reporter.
Prejudice in a men's world
"Okay well, what are we gonna play?" I ask. The bass player suggests something to his pal on guitar. His reply is as follows and unfortunately I have great ears and no ear plugs inside yet: "She won't be able to play that. Let's keep it simple." He just said that, didn't he? I was about to have fun with some very arrogant anti-musician, wasn't I? It's jam night in a Berlin club in the year 2003. The house band is done, the break is over, the stage is open for everybody who signed up to perform tonight. At some point during the evening, finally I am up.
I show up in front of the stage and greet the other musicians: a guitar player, a bass player and a piano player. There is some mutter going on between two of the guys. Apparently they are upset, because I am up next on drums instead of their friend. They seem to usually perform together as a little band. You already know what they guys said. I decide to ignore it and just play. That's what a jam night is about, isn't it? Get together and play some tunes with other musicians. I did fine by the way and I never played with that guitarist again.
That was not the only incident I remember that I was dissed and prejudged as a musician by people who did not know me and had not heard me play before. To be specific, it's always been men, whose horizon I apparently must have broadened. I've heard things like this: "Oh, not bad for a girl on drums." "Really? You studied drums?" "Heel-down, you know, that's when the heel remains on the pedal while you hit the bass drum, the big drum on the bottom." "You need more chops." "Why can't you just play like your male predecessor?" "Just think of getting laid."
Reality check – how do we look?
So the male dominated music industry keeps complaining about how few women play and buy instruments. At least this is true and very obvious in Rock 'n' Roll. They wonder why that is and also about why there are so few pro lady drummers, lady guitarists, lady bassists et cetera. Let's do a reality check, shall we? For sure the numbers have nothing to do with the biological ability to play an instrument. Women are as much capable of mastering any instrument as men are.
Okay, have you ever searched Google or YouTube for content about female drummers? I have and I wonder this: why do videos get the most views which either show drumming women, who dress very "airy" or which have titles like this?
– Amazing BAD ass FEMALE drummers that really Kick!
– Sexiest Female Drummer EVER! Asian Beauty Rocks to Metal & Pop!
– Hot female drum battle! The most amazing female drummers I've ever seen!
– Cutest & Most Amazing Female Drummer Plays in Streets of Taiwan!
While we are at it, how about some photographs of male and female musicians, serving the same purpose.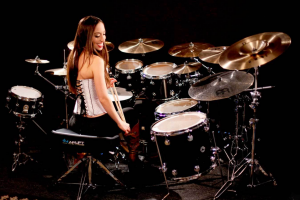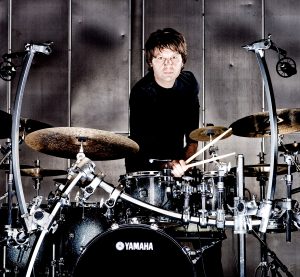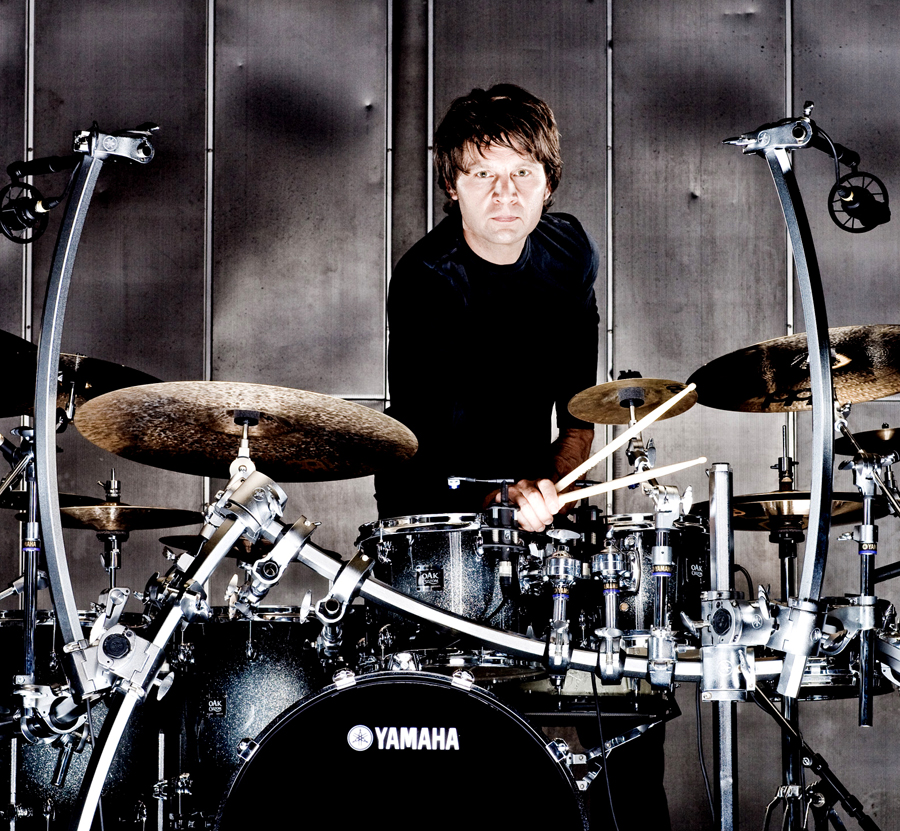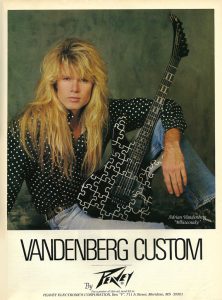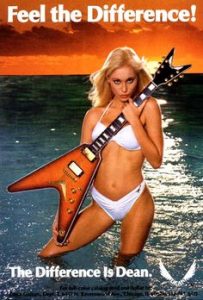 Do you really think that's how women usually sit down on drums and have fun? Does it look comfortable to you? Do you think that's how women are dressed, when they play their guitar at home, in the rehearsal room, or when they teach? Or is this a matter of supply and demand? What do you think who decides about the ad campaign on the company's side, a man or a woman? Whom do these women really dress up for? For themselves?
Yes, they do dress up. And of course that's what you do, if you play a commercial gig, if you are on stage with Beyoncé for instance. Can't play that gig in a hoodie. Even male drummers dress up from time time and play drums in a tuxedo. But usually they can wear whatever they want, they can sweat how much they want and they can look as mean and warlike as they want. Women it seems, are preferably seen with as much skin and cleavage as possible, with make-up on and with a nice smile.
Why do girls and women on drums often change their normal appearance and outfits for photos and videos so drastically? First of all from whom do they expect to be taken seriously as musicians? And on the other hand, who expects us to hit hard and not sweat at the same time? Who expects us to concentrate and put up all of our energy and yet keep smiling at all times? Who expects us to groove in a tight domina outfit? Apparently some people out there do.
I remember a couple situations, when I talked to two experienced pro drummers about taking press pics as well as about my appearance in front of a camera. Can you guess what these two of the world's top drummers suggested to me? "You have to look sexy, you know." Oh, I got it: just show more of what I've got?
Female drummer vs. drummer
To all girls out there: You DO NOT have to look sexy, while playing the drums, you simply don't. Just be yourself, love your instrument and have fun! If you do so, you will smile and look beautiful automatically. Fortunately two of the most gifted and successful female drummers / percussionists these days express themselves in a very authentic and at the same time feminine way. Have a look at Anika Nilles, Terri Lyne Carrington and Dame Evelyn Glennie for example.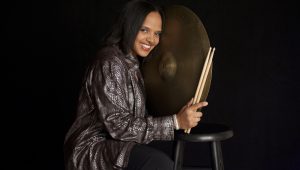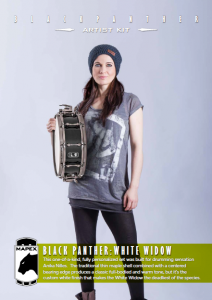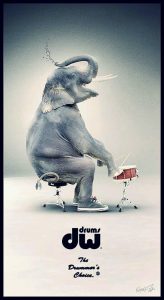 Here is a short memory of my interview with Anika Nilles (*1983) in 2013. It was her first interview, it was once upon a time when she hadn't been famous yet. Anyway, I tried to stay away from the subject "female drummer". However we lost some sentences about it and what lingers in my memory is this: Anika isn't interested to become a great female drummer, she's interested in becoming a great … drummer. And whenever she plays, she chooses comfort over an extremely feminine look. Consequently she doesn't care what people think – either they like her for her music, or it doesn't matter to Anika. Her success proves her right.
Terri Lyne Carrington (*1965) is doing excellent for many, many years now. The world of Jazz is her home as a drummer, composer and producer. Once called a prodigy, she grew up among music legends like Dizzy Gillespie and Oscar Peterson. Furthermore, her first teacher was no other than Alan Dawson. Nonetheless, when Zildjian signed her at age 12 that was quite a big thing. On her website you'll see the many faces of Terri Lyne Carrington, telling her story. Mostly she did not dress up, but remained true to herself.
And Evelyn Glennie (*1965)? She was the first solo percussionist in the classical world, a world, which also used to be heavily male dominated. Of course she stood out. However, nowadays and since the introduction of auditions behind screens, the number of females in orchestras has increased. Nevertheless, even though the fascinating and extremely accomplished sound creator from Scotland is a respected solo musician all around the world, it's still mostly men sitting in those important and better paying solo seats. Oh and how many "maestras" have you seen conducting?
In need of more role models? How about the unbelievable Viola Smith, who is 103 years old and thus has got a lot experience in the music business. And if you think the drummer's world is only what the usual drum magazines write about, get enlightened! Ever heard about the Tom Tom Magazine? Check it out and you'll see how many female drummers are out there, what they look like and what they think. Thank you for giving female drummers a voice, Mindy Seegal Abovitz & team.
---
 Like what you see, watch and read? Let me know through the ❤ or  at the bottom ⇣⇣⇣
Stay in touch, subscribe to my YouTube channel, follow me and like me, if you do. Thank you!
---
Being a gigging female drummer
The show must go on. Being a Rock 'n' Roll drummer is a tough job. It's very physical. You do hit things and make a lot of noise. More than anybody else you are responsible for a steady time. You need to groove and get the people dancing. That takes a lot of energy. Can you picture a ballet dancer or super model do so? Quite often female drummers are tough. Sometimes you expect that from their appearance, sometimes you will be surprised. Both is great.
Have you ever been the only woman among men? What was that like? I basically grew up with only boys around me. When I was six I joined the soccer team and was the only girl, when I studied drums at the LACM, I was one of three women among 32 students in class. And very often in the past I was the only woman in a band. Well, the teachers said, the presence of women help the overall class atmosphere – men behave better. Nevertheless, I saw boys and men without any "courtesy fuse".
Frankly, oftentimes it's better to always bring one's earplugs. I remember being on tour with a musical. My birthday was up and as a consequence there were some gifts. "Hey, happy birthday! We brought you this." (handing a small rubber animal, a rooster) "We thought you fancy some cock." Very funny these guys, aren't they?
To be a gigging pro drummer, you need to have a professional attitude and you need to be an expert on your instrument. To become an expert in anything, you need to invest a lot of time in it. In other words, you need to play your instrument daily. Moreover women need to look good of course and they can't allow themselves to make big mistakes. They receive even more attention from the "drum police" than their male peers.
Female bonus?
Yes, there might be something like a "female bonus". In my best years as a musician I was part of a ladies band in Berlin. Being female gets you in such a band, but only if you are also a good player. Actually I enjoyed the chilled atmosphere and the fact that stupid jokes only came from a few men in the audience. And yes, I also once played with a guy, whose dream it was to have his own trio composed of him and two women. Therefore, instead of taking the male drummer from his other band, he invited me to sit in. We had one gig and it wasn't fun.
On the other hand being the only woman in a band can be of disadvantage. If you are the only woman in a band, most of your colleagues might have a girlfriend or even a wedding ring. And those partners can get extremely jealous knowing that you spend time with their honeys instead of them. It doesn't even matter if you are gay and therefore not interested in men. So be aware.
Hiring a woman as the drummer for one's band, says quite something about the man or men who are doing so. If they don't do so for her looks, but for her musicianship and personality they first of all are emancipated and are in tune with their manly ego, secondly they are professionals and thirdly they are probably a lot of fun to be around and play with. It seems that it takes a lot from many men to give the drum throne, the driver's chair of the band, to a woman. Here's to Lenny Kravitz, Velvet Underground, Kid Rock, Motley Crue and blind auditions!
Shopping for instruments
One last topic … What's your experience with buying gear in a music store? Do you even dare to go there or do you just order your stuff online? If you do go to a store, do you feel the sales people take you seriously? Have you ever stumbled into rather cool, grumpy, untalkative men dressed in black, who rather remain practicing their rudiments behind the shop counter than initiating a sales talk? Do the women among you feel not being taken seriously at a music store? Well, maybe you can relate to a video, I just saw yesterday. Have fun with some "Gender Reversed Guitar Shopping".
What now? Where's the key?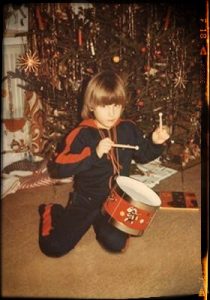 Well, I think the future looks bright in terms of female drummers and musicians. Ups, sorry, I wanted to shorten that label. Anyway, there are plenty of girls and women, who love rhythm and who would love to play the drums. That's not only true for Germany, the US and other Western counties, but also for example for Iran. Just read the letters from my dear keypal Sahar Shateri. Thinking back of my roots, I wanted to play drum since I was three years old – not to impress anybody, but because I was drawn to that powerful instrument. So that's the key, isn't it?
Many men are also extremely happy to see female faces in that male dominated world. And they do enjoy hearing women play drums and anything else, for it might just sound a little different. Don't artists love new input and creative new takes on for example quintuplets? There are many female role models on various instruments out there. Maybe now is the time for the music industry to properly put them in the spotlight along with their male peers? Some companies have already understood, some prefer to stick to their old, dusty, chauvinistic world view.
To cut a long post short: fuck yeah, girls and women out there, just show more of what you've got in you as a player. Be yourself and do what you love. I rest my case. But if you would like to share your experiences, feel free to comment below.
¡! Stick together ¡!
Yours Cat