Brad Webb is best known as the drummer for Jamie Cullum. He is versatile, does things his way and people recommend him. Find out about the busy 30-year-old, who is a Vic Firth endorsee for 20 years now.
Brad Webb on tour with Jamie Cullum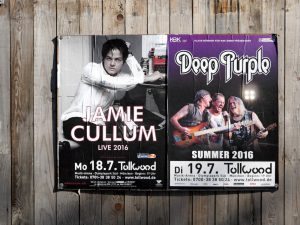 It's one of those few really hot days in Munich this summer. I'm biking over to the Olympic Park to meet with a drummer, whom I've only heard on records and seen in online videos: Brad Webb. He must be quite a drummer, if he sits on the drum throne for Jamie Callum (JC) for seven years already. He also played with Amy Winehouse and has been a drummer and instructor for Blue Man Group – a show, which auditions I failed back in 2003. Anyway, I am very curious about a busy drummer I know so little about.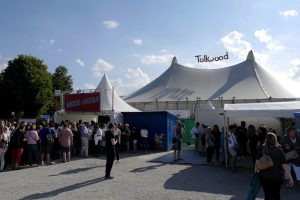 The Tollwood cultural festival in Munich is on every summer and winter. 25 days full of music, food and artworks. Well-known national and international artists perform in the Musik-Arena. That's a big tent which fits about hundreds of people. While I missed ZZ Top, Jan Delay and Deep Purple, I got to see the indie band Beirut (stay tuned for my video post!). And now I am about to experience the energetic pianist and singer Jamie Cullum live for the first time – assumed drummer Brad Webb gets me in.
Seeds of inspiration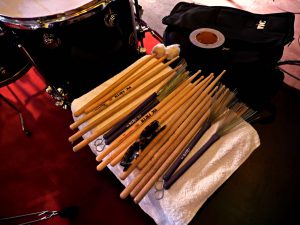 First of all Brad and I meet backstage, in a small patio with a beach chair. He is in a fantastic mood, very polite, easy-going and not in a hurry at all. Lucky me. While I'm experiencing some technical difficulties, Brad remains a true Englishman: "Keep calm and move on to take two." In the end I get to ask all of my questions and receive the same number of answers.
I am happy with the result, because I love to hear something I haven't heard before. You might be familiar with the short profile of drummers in my videos. It's the same questions for everyone, but there is enough room for surprises. And Brad surprises me with some names and thoughts. Answers can be seeds of inspiration – hopefully you'll find some in this video, too.
Drummer love for Europe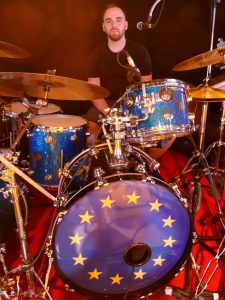 Even though I decided to do a more regular interview with Brad, I didn't want to miss having a look at his drum kit. Therefore I ask Brad, if we can quickly go on stage. Sure! While I find some interesting things in Brad's set-up, most noteworthy for him is his big bass drum front head – it has the flag of the European Union on it.
Yes, this is the time after the unfathomable Brexit. Brad and his band mates are heartbroken about it and don't hide their feelings. Thus the clear visual sign on stage. Furthermore Jamie Callum will take a minute to talk about how he loves Europe and how sorry he is for what just happened.
More questions after the concert
To make a long concert short: I got in and it was great. Jamie Cullum is a first class musician and entertainer. His drummer Brad Webb is a first class musician and the perfect side man. The show was diversified, energetic and high-class. The band seems like an old, well attuned team. I really dig Brad's touch and dynamics on the drums as well as his musical choices. Now I'm even more curious about his own electronic project Arch Birds. Have a first listen on soundcloud or bandcamp, too.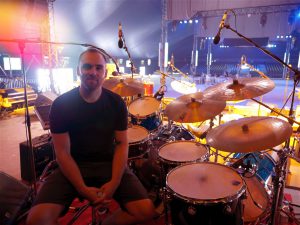 For Brad and I met before the concert, I couldn't ask the following two questions:
1) JC seems to love rhythm, drums and percussion. During the second song of the show at some point all five musicians on stage are drumming. Who had the idea for that?
2) Are you teaching your band mates playing drums and percussion? Great tambourine playing of the guitar / trumpet player and what a great job of your saxophone / clarinet / piano / glockenspiel player and drummer.
Here is Brad's reply:
"The reason everyone is drumming is because a lot of drums on the record Momentum are layered up by me and so we needed more drums for the live thing! I haven't taught any of the guys how to drum, but Tom (the sax player) is quite a good drummer already. The other guys are doing their best. :)"
Meet Brad Webb and enjoy the video.
Stay on or by(e)
Yours Cat
---
 Like what you see, watch and read? Let me know through the ❤ or at the bottom ⇣⇣⇣
Stay in touch, subscribe to my YouTube channel, follow me and like me, if you do. Thank you!
---
Get in touch with Brad Webb
His Arch Birds project …
Facebook
Twitter
Soundcloud
Bandcamp
Media and drummers Brad mentions in the video
Jamie Cullum – Twenty Something (CD | 2003)
Paolo Nutini – Caustic Love (CD | 2014)
A Tribal Called Quest – Midnight Marauders (CD | 1993)
Weevil – Drunk On Light (CD | 2005)
Mutemath – Vitals (CD | 2015)
Buddy Rich Big Band – Big Swing Face (CD | 1967)
The Inner Game Of Music by T. Gallway & B. Green (book | 2015)
Jamie Cullum – Don't Stop The Music (EP | 2010)
Jamie Cullum – Interlude (CD | 2014)
Nostalgia 77 & The Monster – Measures (CD | 2014)
Some Recordings with Brad on
Jamie Cullum – Momentum (CD | 2013)
Tim Minchin & The Heritage Orchestra – Live At The Royal Albert Hall (DVD | 2011)
Brad Webb's Gear
dw Drums
Sabian Cymbals
Remo Drumheads
Vic Firth Drumsticks