Are you the proud owner of an Animal-shirt? Me too. How about a new drummer shirt? How about some love or a cat with a hat on it or on a gym bag, a bottle, a hoodie? I opened up my little CATwithHATs Shop.
Win-win
A few days ago another suicide attack hit the world – it did so at Istanbul Ataturk Airport. Very sadly, since then others also occurred elsewhere. When I checked on my new keypal in the same city he replied with: "The planet needs more love." I agree. It also needs every kid to get free access to an instrument and music lessons, to a dance school, to a sports club and to good education. If you play the drums and have your own kit you are very lucky. An instrument is a powerful tool. Not only can you have lots of fun yourself, by playing in front of others, you can make lots of people very happy. Therefore music is always a win-win thing, at least in an idealistic way.
Outstanding drummer community
Now, I've played drums for a while, I've met and talked to lots of drummers and I've heard many stupid jokes about us. Some people think among musicians, drummers really stick out. I agree, of course we do! That's true for many reasons, but mainly we are a hell of a community. We love the simple things: wood and metal. We strive for more: from Gene Krupa to Thomas Lang. We like to share our passion: have a look on YouTube and at the last point. We are full of respect for our peers: Isn't it wonderful, how many drum camps and drummer festivals are in the world? Let's keep it up!
LOVE drums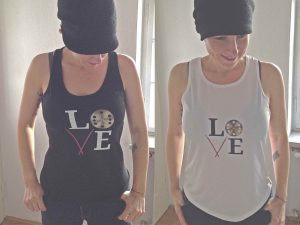 Every drummer has different idols, but one really stands out. So here's to James Maury Henson, the creator of The Muppets. How many t-shirts with The Animal have you had in your life? It's probably the most used character on drummer shirts. I owned at least two, as well as a magnet, a cup and a little toy. It's a great way to let people know in advance, whom they have to deal with next. However, sometimes it is time for something new and I went searching the internet for a cool new drummer t-shirt. I found something, though it was not what I had in mind. So I stayed on my computer, opened up pixelmator and played around a little. For your information, I didn't keep the result to myself.
Shop a drummer shirt
When I finally had a draft ready that I was happy with, I went to Spreadshirt, clicked a few keys, including "upload". I put the design on two tank tops, liked what I saw and pushed the order button. When the shirts arrived a couple of days later, they fit excellent. And I also loved what they looked like. Hence I put the design on some other things. Have a look at them in my newly created shop.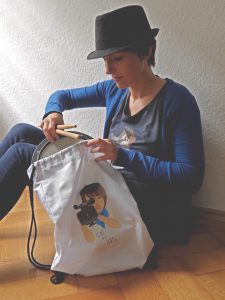 Because some people asked for it, I also uploaded the CATwithHATs-logo and created some products with it on as well. Whether you are looking for a t-shirt, a hoodie, a gym bag or a hat, it's all available in my shop. And very soon another design will be up. Something for the nerds among you drummers. It's almost ready, I just want to see and check it for real myself, before everybody can order it. So stay tuned.
And if you like what I created, by buying a product with my design on it, you are actually supporting me. And your help is appreciated very much. Thank you!
Stay on or by(e
Yours Cat