Listing live encounters with some dark age music is easy for me: zero. That changed last weekend when I met with the minstrels of eternity: Furunkulus. Watch, listen and learn something about the davul.
Back to the dark age
Three weekends in July, every year since 1980, more than 1000 artists, 100 booths, five stages and one arena fitting 13000 people: the medieval festival of Kaltenberg in Germany is a big attraction. And I was in the middle of it this year, for I had never been to such a festivity before. But as often as possible I follow Eleanor Roosevelt's advice:
Do one thing every day that scares you.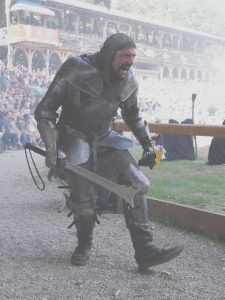 And thus I travelled to Schloss Kaltenberg last weekend. I mean it's an isolated area in the woods full of people dressed and acting like 800 years ago or so. Supposedly I would walk into peasants, jesters, minstrels, magicians, thieves, knights, nobles and hangmen.  And as soon as I passed the entry gate, I truly felt like I had travelled back to the dark age – thanks to the organizers who do their work with lots of passion and love for detail.
Luckily it's all only a big and very well produced show. Nobody gets harmed, but everybody gets entertained. People indulge in a rather unusual hobby and in a fulfilling or thrilling job. Kids scream and laugh and even grown ups scream and laugh: "Jubel!" And as a highlight, who wouldn't wanna impress an unmarried princess with one's horsemanship, gallantry or courage? I did leave before the spectacle of the knight's tournament was over, but I hope the unfair black knight did not succeed.
Minstrels of Eternity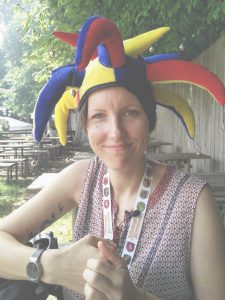 The first thing I did when I was inside, was getting a hold of an appropriate hat for the day. After all, was I not here for fun, not only for that at least. I had a date with the minstrels of eternity: Furunkulus. That's four strong men, playing music on drums, percussion instruments and bagpipes. Their names are Thalis, Laurin, Pollux and Batu. And they had agreed on meeting me. Not surprisingly the time frame was very tight. But the guys were very nice, open and flexible.
While the opening act was still on stage, we did a quick intro and off they went on stage. However, we had enough time to talk about their most original medieval instrument on stage, the davul, as well as about their love for Game of Thrones and the background of their band name Furunkulus. Let's just hope that things like a musician's rank in society, freedom of so many things, equality, fair trials, the right to vote etc. will not fall back on their status of the dark age.
Dark age music live
Well, Furunkulus certainly played themselves into the centre of attention. When they performed their tune "Havana", which is about the legendary Cuban drink rum, I tried to capture their performance for you. Watch the davul in action, as well as a Tibetan Glockenspiel, timpani, a thunder drum, tam-tam and the scythe of dread. Here's a taste of the dark age for you. Enjoy! If you happen to read this just in time, visit the medieval festival yourself this weekend and see Furunkulus play live.
Stay on or by(e)
Yours Cat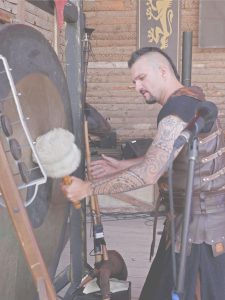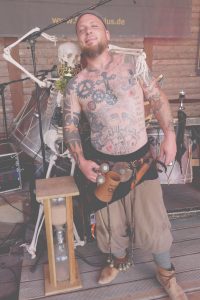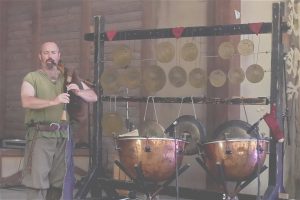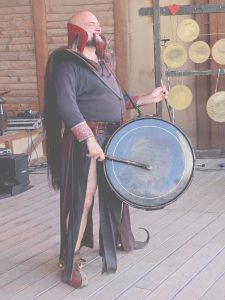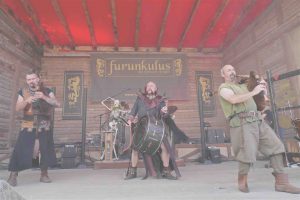 ---
  Like what you see, watch and read? Let me know through the ❤ or at the bottom ⇣⇣⇣
Stay in touch, subscribe to my YouTube channel, follow me and like me, if you do. Thank you!
---
Get in touch with Furunkulus
Some Recordings with Furunkulus on
Furunkulus Live 2016 (2016)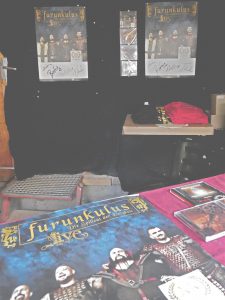 Rotes Gold (2012)
Fette Zeiten (2008)
Hades – Opus Secundus (2007)
Live In Concert (2005)
Trolltanz (2005)
Spielleut im Zauber der Ewigkeit (2000)