When his band Ohrbooten started out, they rehearsed in a living room and made Onkel play the cajon. As a rock 'n' roller he came up with some ideas to make the little box sound groovy enough for his own world.
A drumming Onkel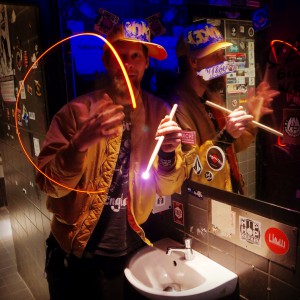 Markus "Onkel" Lingner (*1980) is a Berlin original and an unique musician with much blood, sweat and tears.He has a dazzling personality and is full of curiosity, ideas, vitality, joy of living and versatility. The latter stems from
his youth. Onkel grew up in East-Berlin and received an extensive musical training at school, practicing lots of classical drums and piano. At home he wanted rock out though, wanted to play along with his heroes. Luckily his mother supported him big time. So did his cousin, who handed over his drums to Onkel – an Amati kit.
Another big influence was his neighbor and godfather, who introduced Onkel to the worlds of Rock 'n' Roll, Jazz and Fusion. Like a sponge with open ears, Onkel absorbed and loved it all: the Stones, The Beatles, Iron Maiden, Motörhead, Steve Coleman, Dennis Chambers, Skunk Anansie, Smashing Pumpkins, The Turbans, hip-hop, reggae, classical music, singer/songwriter and the list goes on. That's also the reason for Onkel's wide range of creative work.
Creative Cajon playing and more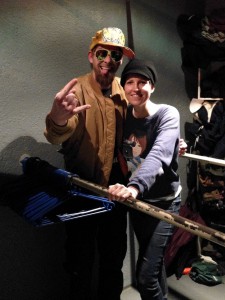 His baby, his most important band, is the gyp-hop band Ohrbooten, which was founded in 2003. A project, where Onkel can set his fusion spirit free is the duo tschaika "21/16". Their new cd will be out in May 2016 – music nerds might really enjoy it. Watch this video to get an idea. Another artist Onkel enjoys touring with is Alligatoah. But the Berlin based musician is also known within the drummer world, at the latest through his trio performance together with Benny Greb and Jost Nickel at the Meinl Drum Festival.
Onkel loves to play around, loves to experiment, loves to do things differently. Even though he really didn't like to play the cajon at first, as soon as he managed to think outside the box, outside the traditional ways of playing this instrument, he found a creative way of making use of the cajon. All Onkel needs to replace his drums in an emergency are a cajon, one brush, a shaker, a jingle stick and a small collection of tiny bells. Really? Yes, just watch the video, he explains everything very well in Benglish (charming English with an East-Berlin accent). Enjoy!
Stay on or by(e), Yours Cat
---
 Like what you see, watch and read? Let me know through the ❤ or at the bottom ⇣⇣⇣
Stay in touch, subscribe to my YouTube channel, follow me and like me, if you do. Thank you!
---
An Onkel for rent
As mentioned in the video, the Onkel never sleeps and he loves to play the drums. Those two facts put together give you an Onkel for rent. What that means exactly, Onkel explains in a lovely video. Also check out the Onkel website, as well as his soundcloud profile.
Recordings with Onkel on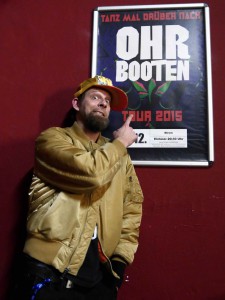 Ohrbooten – Tanz mal drüber nach (2015)
Ohrbooten – Alles für alle bis alles alle ist (2013)
Ohrbooten – Gyp Hop (2009)
Ohrbooten – Babylon by Boot (2007)
Ohrbooten – Spieltrieb (2005)
Tschaika "21/16" (2016)
Alligatoah – Musik ist keine Lösung (2015)
Michael Krebs – Wellnessalarm (+DVD) (2015)
Onkel's Gear
Yamaha Acoustic Drums
Yamaha E-Drums
Meinl Cymbals
Meinl Percussion
Rohema Percussion
Ahead Armor Cases
Fat Cat Snare Wires
S-Hoop
Steinberg Software
Focusrite Audio Interface
Audix DP8 Elite Drumcase
Sennheiser MD412-II
AKG D12 VR
Shure SM57 LC